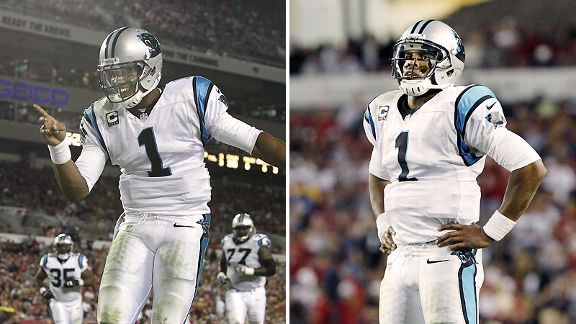 Kim Klement/USA TODAY Sports
Cam Newton's career has had plenty of excitement -- and disappointment.
The Carolina Panthers host the New England Patriots on "Monday Night Football" in what could be the biggest game of Cam Newton's career. Newton and the Panthers have been rolling in their past five games, but is Newton for real? ESPN Stats & Information takes a closer look at both sides of the argument.
Newton is not legit
Newton has not put his best foot forward against good teams. Since he entered the league in 2011, the Panthers are 4-17 against teams that finished the season at or above .500 (for 2013, we used the team's current record). Newton has thrown 21 touchdowns and 29 interceptions with a 40.4 Total QBR in those games.
Newton by Opponent
End-of-Year Win Percentage
In his previous big NFL games, he has struggled. You could argue his first marquee game was Thursday night football in Week 3 last season when the Panthers hosted the Giants. Newton threw three interceptions and no touchdowns in a 36-7 loss.
Last week, the Panthers had a signature win over the 49ers, but Newton did not have a touchdown and completed just 50 percent of his passes. He was credited with his third career game-winning drive in the fourth quarter or overtime after leading the Panthers on a 9-yard drive capped by a 53-yard field goal.
His three career game-winning drives are tied for 24th in the NFL since 2011. The other two drives were against the Jaguars in 2011 and the Eagles in 2012, when they were in the midst of a seven-game losing streak.
His Total QBR in the fourth quarter of a one-possession game is 36.5 in his career, ranked 21st of 24 qualified quarterbacks since 2011.
He has the Panthers on a five-game win streak now, albeit coming off his lowest Total QBR (19.3) in a win in his career -- against the 49ers. The Panthers' previous four opponents in the win streak are currently a combined 9-28.
-Doug Clawson
Newton is for real
Newton has led the Panthers to five straight wins, the franchise's longest win streak since 2005.
The Panthers average 33:48 time of possession per game, highest in the NFL. A big reason for that is because Newton has a nose for the sticks. He has rushed for a first down on 36.5 percent of his rushes, second only to teammate Mike Tolbert. Newton has 16 rushing first downs on third down this year, more than any other player in the NFL entering Week 11.
Newton Career Passing
Less Than 15 Yards Downfield
But Newton has always been able to run. Where he has made real improvements is through the air, particularly on short throws -- 77.9 percent of his pass attempts have been less than 15 yards downfield this season, the highest rate of his career. Newton's 83.4 Total QBR on those throws is third-best in the NFL and by far the best of his career.
Newton has also become a much more accurate passer on all types of throws this season. He has completed a career-best 63 percent of his passes this year. Even more impressive, Newton has over- or underthrown his receiver on a career-best 17 percent of his passes, 5 percentage points lower than his off-target rate last season.
-Michael Bonzagni