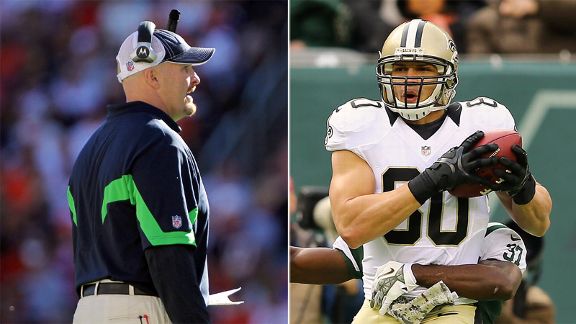 Getty Images
Seahawks assistant Dan Quinn (left) might have the right personnel to contend with Jimmy Graham.A Seattle Seahawks win on Monday night stamps Seattle's ticket to the playoffs, but the implications of Monday night's showdown are much bigger.
A Seattle win Monday puts the Seahawks two games ahead of everyone else in the race for home-field advantage in the NFC, while the New Orleans Saints could make the last four weeks interesting by handing Wilson his first home loss.
Both teams excel at home -- Russell Wilson is 13-0 at Seattle's CenturyLink Field, while the Saints are 14-0 in the Superdome in the last two seasons with Sean Payton as head coach (not including 2012, when Payton was suspended).
What do the Saints look like on the road? Let's take a look, along with three other statistical matchups to watch on Monday night.
The Saints vs CenturyLink Field
The Saints' point differential at home (+104) is 99 points higher than their road differential (+5), the third-biggest disparity in the league.
Drew Brees Passing by Location
2013 Season
New Orleans has held opposing quarterbacks to a Total QBR under 20 in four of the six games played at the Superdome. The Saints' Total QBR allowed jumps from 29 at home to 51 in road games.
There's also a noticeable dip in Drew Brees' performance on the road. Any quarterback would rather play at home, but Brees' completion percentage at home leads the league. His completion percentage in road games ranks 12th.
CenturyLink Field is no ordinary road venue, either. Since it opened in 2002, Seahawks opponents have been flagged for 208 delay of game or false start penalties in Seattle, the most of any venue.
The Seahawks' point margin is 937 points higher at home (+635) than on the road (-302), the second-biggest disparity in the league.
Jimmy Graham vs Dan Quinn
Seahawks defensive coordinator Dan Quinn is tasked with coming up with a plan to stop Jimmy Graham, who leads tight ends in targets, catches, yards and touchdowns.
Graham hasn't been a particularly versatile tight end, running a pass route on almost two-thirds of his snaps (65 percent). Graham has run 254 routes lined up as a receiver (either slot or outside) compared to 63 lined up as a traditional tight end.
Graham's worst game of the season came in Week 6 against the Patriots, who used cornerback Aqib Talib on Graham instead of a linebacker. Brees completed more passes to Talib than Graham, finishing 0-for-6 with an interception targeting the tight end.
Richard Sherman (6'3, 195 pounds) could play a similar style as the 6'1, 205-pound Talib did on Graham. If Quinn uses Sherman on Graham, Sherman's length and physicality could give Graham fits and limit Brees' most effective weapon.
Russell Wilson vs Saints' pass rush
No one has a better completion percentage, yards per attempt average or Total QBR on throws at least 15 yards downfield than Wilson. Those routes typically take time to develop, and so far in his career Wilson has had the necessary time.
In his rookie year, Wilson averaged 4.08 seconds before throwing a pass, the highest average among quarterbacks by 0.29 seconds.
In his second season, Wilson has been quicker to release the ball. Wilson's 3.86 seconds before pass is "only" seventh slowest in the league. Thirty one percent of Wilson's passes have taken longer than four seconds to release, a higher percentage than 23 quarterbacks and a problem given this week's opponent.
The Saints defense has 24 sacks in four seconds or less this season, tied with the Ravens for most in the league. New Orleans' defense has sacked opposing quarterbacks on nine percent of dropbacks in its first year with Rob Ryan as defensive coordinator, the highest rate in the league.
Seahawks LBs vs Saints' screen game
Brees has thrown 45 screen passes this season, third most in the league. Pierre Thomas and Darren Sproles rank first and second in receiving yards on screen passes since Sproles signed with the Saints in 2011. During that same span, no one has defended screens better than the Seahawks.
Seattle has allowed 4.5 yards per screen attempt, best in the league and over a yard and a half fewer per attempt than the league average. Seattle is one of two teams that hasn't allowed a screen-pass touchdown in the last three seasons along with the Green Bay Packers.
Bobby Wagner and K.J. Wright are the two most likely candidates tasked with slowing Thomas and Sproles, who missed last Thursday's game against the Falcons with an ankle injury.