Rich Schultz/Getty Images
Seattle's new $240 million investment should have no trouble at Safeco Field.As a left-handed power hitter, Robinson Cano is believed to have been the benefactor of Yankee Stadium's hitter-friendly porch in right field and thus presumed to be unable to thrive in a new environment -- such as his new digs at Safeco Field.
Pct of Home Runs By Location
Robinson Cano Past 5 Seasons
However, away from Yankee Stadium, rather than hitting a large number of short fly balls to right field for outs in other parks, Cano's adjustment has been to take aim at center field and left field.
And, in the past five seasons, it has translated to opposite-field home runs with much more frequency on the road than at home.
It's clear Cano has an ability to change his approach based on the park he plays in, and evidence suggests he isn't simply a product of his home park.
[+] Enlarge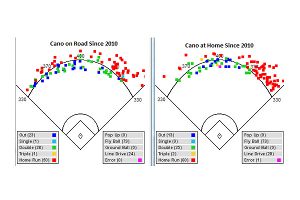 ESPN Stats & Information
Cano has no trouble driving the ball to all fields.
The charts to the right are Cano's results on balls marked as "well hit" that went at least 350 feet since 2010 (his road results are on the left, home results on the right).
Quite simply, whatever park he's in, it's clear he has power to all fields. And, although he might lose some home runs to right field in Seattle, there's opportunity for more success in left-center with a shorter distance at Safeco Field compared with in Yankee Stadium.
Expect Cano's general approach at Safeco Field to be to left-center and, naturally, between right-center and right field -- an adjustment he has shown an ability to make.
So, Mariners fans, take a sigh of relief -- Cano should adjust to his new confines quite well.