With Florida State and Auburn set to face off in the BCS Championship Game, it's interesting to note that the two teams took very different paths to get there. Florida State finished as the only undefeated team in FBS and Auburn ended up tied for the second-best record at 12-1, but Auburn faced a more challenging schedule. An average team would have won about half its games vs FSU's schedule, while an average team would have gone about 5-8 if run through Auburn's gauntlet.
Florida State vs Auburn
2013 FBS Ranks
In fact, if you look at each team's schedule from an average FBS team's perspective, it would have been more difficult to go 12-1 vs Auburn's schedule than undefeated vs Florida State's slate of 13 opponents. That's why Auburn ranks first in adjusted win percentage, with FSU's weak schedule dropping them to fifth.
Going beyond just the results in the win column and looking at how the teams progressed toward those results, it's clear that Florida State has been the more dominant team this season.
Looking at each team's win probability on each play of every game, Florida State has had an amazing average win probability of 83 percent throughout games, compared with Auburn's 67 percent.
FSU vs Auburn In-Game Win Prob.
2013 Season (with FBS Ranks)
Auburn's performance looks more impressive after adjusting the average win probability in each game for site and opponent, but Florida State is still tops after making that adjustment.
For a visual look at how much more dominant Florida State has been than Auburn, take a look at the graph of each team's win probability in each game this season.
ESPN Stats & Information
Other than the Boston College game, the Seminoles have taken control of pretty much every game by the end of the second quarter, never really being threatened in the second half.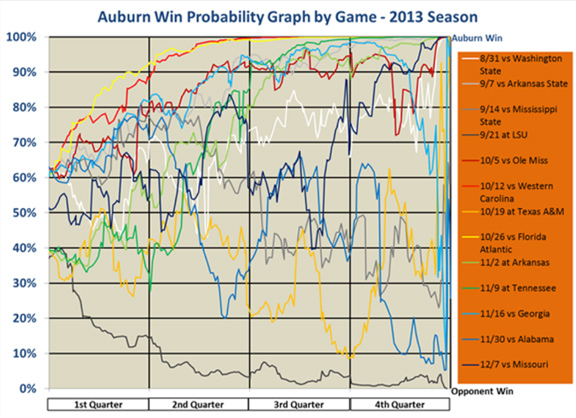 ESPN Stats & Information
Obviously, the loss at LSU (dark line at bottom) stands out, but some of the Tigers' wins look almost like losses, too: at Texas A&M (orange), the very end vs Georgia (light blue) and vs Alabama (blue). Call it destiny, luck, or whatever, but Auburn fans have definitely been sweating it out a lot more than the Seminoles faithful on the way to the title game this season.
This is not to say Auburn doesn't "deserve" to be in the BCS Championship Game –its 12-1 was harder to accomplish than any other team's record this season from an average FBS team's perspective. But while Florida State is headed to Pasadena on the basis of dominating every opponent on a relatively weak schedule, the Tigers got there on the strength of bottom-line results with limited "style points."