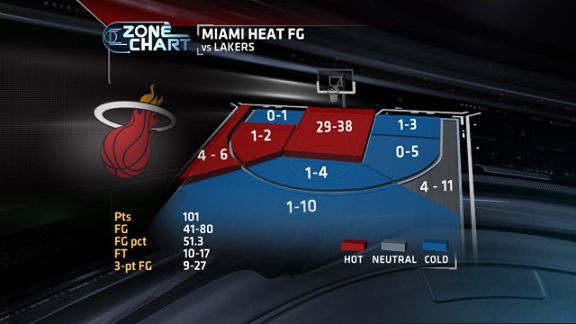 What were the keys to the Miami Heat's win over the Los Angeles Lakers on Wednesday?
It really came down to one key. Scoring and creating from in close.
James beats the traffic
LeBron James was 1 for 8 shooting outside the paint, but made up for that with his work going to the basket.
James drove to the basket nine times, which resulted in 15 points (11 points for him and two assists).
James' season averages as highlighted by player-tracking data on NBA.com, are 5.9 drives per game and 6.9 team points per game.
James finished a perfect 6-for-6 in the paint for the game.
Wade gets to the rim
Dwyane Wade posted his fifth straight 20-point game and did so almost exclusively from in the paint. Wade was 11 for 17 from the field for the game with an average shot distance of 7.3 feet. He scored 20 of his 23 points in the paint, his second most paint points this season and tied for the fourth most by a guard this season.
Wade leads all guards with 10.9 paint points per game this season.
Bosh more proactive
Chris Bosh went 8 for 12 from inside of five feet en route to his third 20-point/10-rebound game this season.
The 12 shots from in-close were unusual for Bosh. He's averaged only 3.5 attempts per game from that close this season.
It all adds up
The Heat outscored the Lakers 58-26 in the paint, their highest paint-points differential this season. The previous high was 28 points against the Minnesota Timberwolves on Dec. 7.