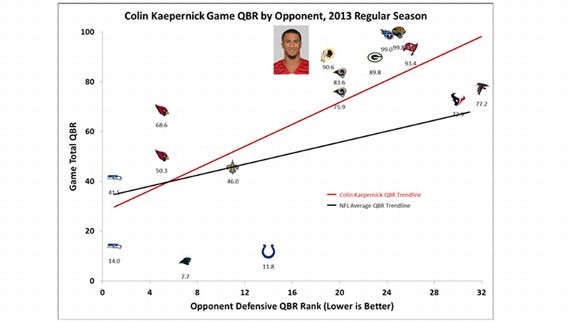 ESPN Stats & Information
Colin Kaepernick's game-by-game QBR has varied based on the strength of his opponents.Sunday's NFC Divisional Playoff game features a matchup between two exciting, young, dual-threat quarterbacks looking to lead their teams one step closer to the Super Bowl.
Both Colin Kaepernick and Cam Newton led their teams to 12-4 records in the regular season this year, but they have been relatively inconsistent compared with other good quarterbacks. Each of them has at least five excellent games with a Total QBR of at least 80 this season, but each also has three abysmal games with a QBR below 20. Besides Andy Dalton, no other quarterbacks have that number of both great and terrible performances this year.
One explanation for this apparent inconsistency that applies to both Kaepernick and Newton is the difference in how they perform based on the quality of opposing defenses. If we divide up the 32 NFL defenses in half by opponent QBR rank – that is, defenses 1 to 16 in terms of lowest opponent QBR allowed in the top half, and defenses 17 to 32 in that category in the bottom half – and then break down each player's performance across those categories, some startling differences emerge.
First off, Kaepernick dominated below-average QBR defenses in the regular season, going 9-0 with 18 total touchdowns and no turnovers, good for a league-best 91.2 QBR against those 16 defenses. That doesn't include another stellar performance (88.8 QBR) against the defensively challenged Packers last Sunday at Lambeau Field.
On the other hand, his performance against upper-half QB defenses has been poor. In those games, he has more interceptions than touchdowns and has a QBR of 31.2, good for 24th out of 34 QBs with at least 150 action plays against those opponents.
Colin Kaepernick By Opp Def QBR Rank
2013 Regular Season
The chart above shows all nine of his games (10 if you count the playoffs) with a QBR greater than 70 have come against poor QBR defenses, and he's had a QBR significantly better than average in only one out of seven games against upper-half QBR defenses.
Cam Newton By Opp Def QBR Rank
2013 Regular Season
While the split is not as extreme for Newton, he, too, has cleaned up against bad defenses while struggling against good ones. Newton, Kaepernick and Russell Wilson are the only quarterbacks to be undefeated with at least five starts against below-average QBR defenses, but Newton's production and his team's record are mediocre against defenses more adept at controlling opposing signal-callers.
Below are Newton's QBR game scores plotted by opponent strength. While the line is not as steep as with Kaepernick, most of Newton's top performances this year have been against average-or-worse defenses, and almost all his bad performances have come against solid opposition. One exception is his 74.7 Total QBR against Seattle, good for second-best by any QB against the league's top-ranked QBR defense this year.
ESPN Stats & Information
The difference in performance for Kaepernick and Newton is well beyond the average drop-off for this split. The NFL average QBR this season is about 45 against defenses in the top half, compared with about 63 against the lower tier.
Compare that 18-point swing to Kaepernick's 60-point drop and a near 40-point difference for Newton. Among the 27 quarterbacks who have had at least 150 action plays against each group of defenses, those are the two largest such QBR differences.
The domination of poor defenses by these two quarterbacks is what got them to this point, but the bad news is there are no more such opponents left in the NFC playoffs. The competition gets tougher right away, as Kaepernick and Newton will face each other's defenses, units that ranked sixth (49ers) and seventh (Panthers) in terms of Total QBR allowed in the regular season.
Neither quarterback wants a repeat of the regular-season meeting between these teams in San Francisco back in Week 10. The defenses limited them to a combined total of 218 net yards (including passing, rushing and sacks), no touchdowns and two interceptions in a 10-9 Carolina victory. Newton's 19.6 Total QBR was the third-lowest score he put up this season, while Kaepernick's 7.7 QBR was his career low as a starter.
One of these quarterbacks will have to play well against a top defense to help his team to the next round. But if each quarterback continues the trend of poor performance against quality competition, we could be in for another defensive struggle Sunday in Charlotte.