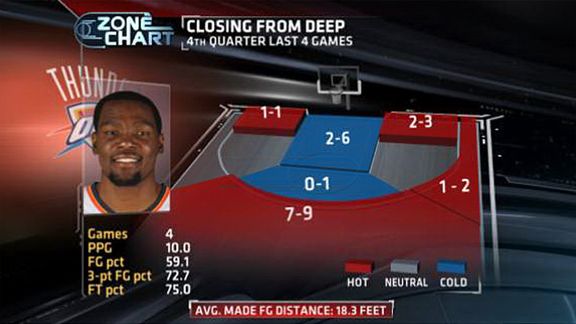 ESPN Stats & Information
Kevin Durant continued his scoring binge Wednesday with a 36-point effort in the Oklahoma City Thunder's 111-105 win against the San Antonio Spurs.
It was Durant's ninth straight game with at least 30 points, tied for the third longest streak in a single season in the past 10 seasons. Only LeBron James (10 games in 2005-06) and Kobe Bryant (also 10 games, in 2012-13) have had longer such streaks in the past decade.
Durant also added seven rebounds and five assists -- his seventh straight game with at least 30 points, four rebounds and four assists. According to the Elias Sports Bureau research, he's one of eight players in NBA history to reach those marks in each of seven straight games in a single season.
The others? Oscar Robertson (seven times), James (four times), Wilt Chamberlain, Jerry West, Kareem Abdul-Jabbar, Larry Bird and Tracy McGrady.
But Durant's night wasn't completely flawless. He committed a career-high 11 turnovers, tied with Stephen Curry for most in any game this season.
Still, the night had to feel somewhat cathartic. Durant's torrid stretch continued despite facing a Spurs team against whom he had been averaging 22.4 points in their previous nine meetings.
Much of his damage came as the ball handler in pick-and-roll plays Wednesday, scoring 16 points in such situations -- nearly triple what his scoring average had been on such plays entering the night (5.5).
And he continued his recent trend of finishing in style. After starting the final quarter 1-for-5 from the field, Durant made his final two attempts, a pair of 3-pointers that helped stretch the Thunder's lead to 10 with 1:08 remaining.
In his past four games, Durant has averaged 10 points in the fourth quarter on 59 percent from the field -- and he has made 8 of his 11 3-point attempts.