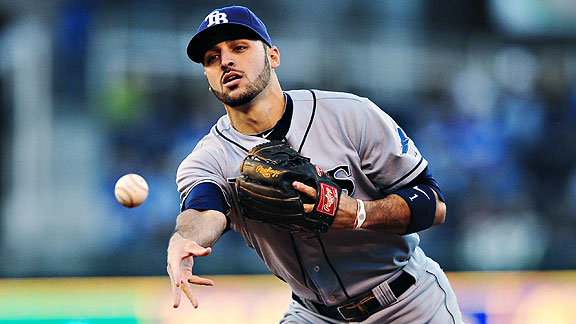 Mark J. Rebilas/US Presswire
Rays second baseman Sean Rodriguez had a knack for strong defensive play and clutch hitting, two factors that could be key in the postseason.
A capsule stat-based preview of the Texas Rangers-Tampa Bay Rays ALDS matchup.
Top things to know
The Rays led the American League in both walks and stolen bases, which partly accounts for how a team could finish near the bottom of the AL in batting average, yet near the top of baseball in runs scored (third-best in the majors).
The Rays also rank atop the majors by a huge margin in a Bill James-devised metric Baserunning Gain (ability to take an extra base on hits, outs and other plays). The Rangers rank second (+66 bases, 52 behind the Rays).
Rangers vs Rays
2010 Head-To-Head
Josh Hamilton had the greatest offensive season by a member of the Texas Rangers. He had the highest batting average (.359) of any player in Rangers team history (for a team that led the AL in the stat), as well as the best OPS+ (OPS compared to league average, adjusted for ballpark), a 174.
Deciding factor
The Rays had the second-best record in baseball when opponents started a left-handed pitcher, and they'll face left-handers in each of the first two games. They beat Cliff Lee three times during the regular season in 2010. Evan Longoria, currently battling an injury, led the way with a .956 OPS against lefties, followed by B.J. Upton's .919.
The Rangers bullpen won 32 games this season, most of any American League team. Their four most frequently used relievers who are available for the ALDS (Neftali Feliz, Darren O'Day, Darren Oliver and Alexi Ogando) combined for a 2.22 ERA, and had a strikeout-to-walk rate of 3.6 to 1.
Most interesting matchups
Vladimir Guerrero has good numbers against almost every Rays reliever of note, albeit in a limited number of meetings. He's 5-for-9 against Rafael Soriano, 3-for-5 against Dan Wheeler, 3-for-6 against Grant Balfour, and 4-for-15 (with four walks and a .450 on-base percentage) against Joaquin Benoit. If Tampa Bay puts James Shields in the bullpen, Guerrero is good against him too (.394 BA, 1.030 OPS).
Like Night and Day
Rangers in 2010
With the first two games taking place in the afternoon, it's worth noting that the Rays .587 win percentage in day games ranked sixth-best in baseball. The Rangers were 24th out of 30 (19-25, .432 win pct). The biggest impact seemed to be with Hamilton, who hit .384 with an 1.121 OPS at night, compared to .286/.819 during the day.
Statistical secrets
Rays second baseman Sean Rodriguez has all sorts of value to his team. His 18 defensive runs saved (a metric that measures ability to turn batted balls into outs, and turn double plays) rank best in baseball among second basemen.
Rodriguez also had an unusual knack for getting hits in big spots. He hit .400 (18-for-45) in "close and late" situations (defined by Baseball-Reference.com as plate appearances in the seventh inning or later with the batting team tied, ahead by one, or the tying run at least on deck).
The Rangers combination of Elvis Andrus and Julio Borbon bunt for hits better than almost anyone. Fangraphs.com charted Borbon as tied with Erick Aybar for the major league lead with 18 bunts hits. Andrus ranked third with 13. Combining bunt hits and infield hits, the Rangers rated tops in the majors, by Fangraphs calculations, with 187.
SIG's Picks
Albert Larcada of ESPN Stats & Info did statistical analysis of the last 10 postseasons, looking for the factors that most separate winning and losing teams. He found three -- power hitting, front-end starting pitching, and the ability to turn batted balls into outs. Using his findings, he was able to make a projection.
For the Rangers-Rays matchup, Larcada's system picks the Rays in four games. He gives the Rays a 56.6 percent chance to win the series.