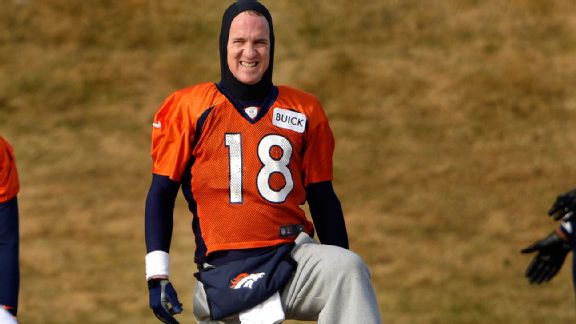 Joe Amon/The Denver Post/Getty Images
Peyton Manning will likely need to bundle up on Sunday.The current kickoff forecast for Super Bowl XLVIII is for temperatures in the mid-30s, which could pose a problem for Denver Broncos quarterback Peyton Manning.
Manning has a career record of 8-11 playing outdoors with the temperature below 40 degrees, with 30 touchdowns and 23 interceptions. He's 1-2 this season with losses to the New England Patriots and San Diego Chargers in night games and a win over the Titans in an afternoon contest.
Manning has a record of 85-35 outdoors when the temperature is 40 degrees or above, with a touchdown-to-interception ratio of better than 2-to-1.
Though Manning's performance outdoors does drop off when the temperature falls, his numbers are on par with the NFL average of the past 10 seasons. His 62 percent completion percentage is better than average (58 percent) and his touchdown-to-interception ratio is a match (1.3).
This is the third time in his career Manning will be playing outdoors in the playoffs against the No. 1 scoring defense from the regular season. He's struggled in the previous two games (the 2003 AFC Championship Game and the 2006 AFC divisional round), completing less than half of his pass attempts, with one touchdown and six interceptions.
Throwing Caution To The Wind
3 Windiest Games This Season
Russell Wilson has played only one game in which the kickoff temperature was below 40 degrees -- a Week 15 win against the New York Giants, when the game-time temperature was 36 degrees. Wilson was 18-for-27 for 206 yards, 1 touchdown and 1 interception.
Also of note: Both Manning and Wilson performed well in the wind this season. In their three windiest games of the season, the two combined to throw 13 touchdowns and only three interceptions.
Likeliest scenario
What can Manning and Wilson expect weather-wise?
New Jersey's official climatologist, David Robinson, and his research team established BigGameWeather.com, a website that contains historical weather data dating to Feb. 2, 1931.
He found the average temperature at the projected kickoff time is 34 degrees, with a 57 percent chance that the temperature will drop below freezing during the game.