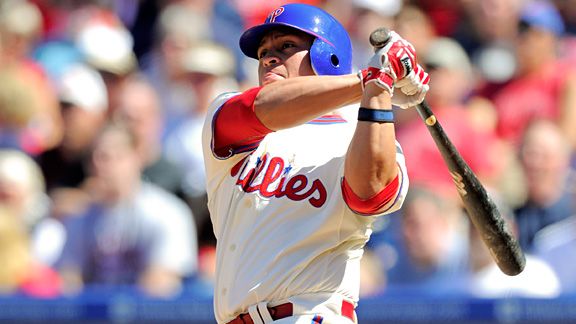 Rich Kane/Icon SMI
Carlos Ruiz has gotten a lot of big hits throughout his Phillies career, especially this season.
A capsule stat-based preview of the Reds-Phillies NLDS matchup
Top things to know
This series will be a matchup of strength vs. strength. The Phillies' starting pitchers led the majors in innings pitched and were fourth in ERA at 3.55. They helped cover for a bullpen that was 18th in ERA (4.02).
The Reds led the National League in hitting (.272) and slugging (.436), and were second in OBP (.338). MVP candidate Joey Votto led the league in OBP, slugging and adjusted OPS+ and was second in the NL in offensive WAR, setting career highs in every offensive category.
Deciding factor

Phillies pitchers had the second lowest walk rate in the major leagues (6.8 pct), and the three pitchers the Reds will see most -- Roy Halladay, Roy Oswalt and Cole Hamels -- walk hitters with even less frequency. And they come after you right away -- the Phils were third in baseball in first-pitch strike percentage and in the top 10 in percent of pitches thrown in the strike zone.
The Reds hitters, for all their success, are an aggressive bunch -- their swing percentage of 47.0 led the National League and was fourth in the majors. And Cincinnati is second in swing percentage and fourth in chase percentage on the first pitch.
Most interesting matchups
The Phillies will have three lefties in the 3-through-6 spots in their lineup and the Reds have veteran Arthur Rhodes and hard-throwing phenom Aroldis Chapman to counter. Chapman has never faced Philadelphia, but the middle of the Philly order has had some success against Rhodes: Chase Utley is 1-8 with two strikeouts, but Ryan Howard and Raul Ibanez are 6-19 (.316) combined. Don't forget July 9, when Rhodes allowed a leadoff double to Ibanez and a walk-off HR to Howard in an 11-inning Phils win. And keep in mind that Jayson Werth, the righty who will be mixed in with those lefties, has three walks in six career PA against Rhodes.
And Cincinnati has two lefty sluggers in the middle of their lineup that the Phillies will need to neutralize.

Lefty J.C. Romero lowered his opponents' BA against left-handed hitters almost 100 points from last season, but Votto is 2-3 against Romero. Plus, Jay Bruce tied for fourth in the majors this season (with Howard, among others) with 12 HR against lefties. But the Phils can also trot out Ryan Madson -- lefties hit only nine points higher than righties this season against him, and Bruce and Votto are 0-6 in their careers against the setup man. Keep in mind that righty Drew Stubbs hit 10 HR against left-handed pitching, just two behind his teammate Bruce.
Statistical secrets
Carlos Ruiz finished the season hitting .302, becoming just the fourth Phillies catcher since 1901 to finish the season over .300 (min. 400 PA). In the ninth inning or later, he hit a whopping .359 and slugged .692 (5th in MLB, min. 40 PA). Of course Joey Votto is one of the players ahead of him in both categories, hitting .415 and slugging .717. Ruiz's nine extra-base hits after the eighth inning were fifth best in baseball.
Also, the Phillies' three starting pitchers in this series all get groundballs at rates above the MLB average, especially Halladay. To go along with that, according to Fangraphs, the Phillies boast the fifth and sixth best players in baseball in Double Play Runs Above Average: Placido Polanco and Chase Utley, respectively.
SIG's Picks
Albert Larcada of ESPN Stats & Info did statistical analysis of the last 10 postseasons, looking for the factors that most separate winning and losing teams. He found three -- power hitting, front-end starting pitching and the ability to turn batted balls into outs. Using his findings, he was able to make a projection.
Larcada's system gives the Phillies a 55.7 percent chance to beat the Reds, the fourth-highest percentage of the eight postseason teams.