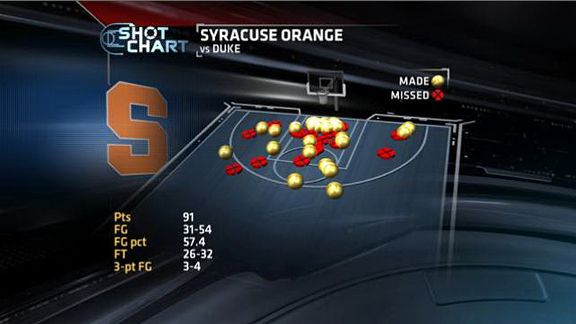 ESPN Stats & Information
Syracuse was able to succeed inside against Duke.The first ACC meeting between Duke and Syracuse lived up to its billing, with Syracuse surviving a buzzer-beating 3-pointer at the end of regulation to win in overtime.
Syracuse is 21-0, the best start in program history.
The Elias Sports Bureau notes that the Orange are the sixth ACC team to start a season 21-0 or better, the first since North Carolina in 1985-86.
Two ACC teams finished a season undefeated- North Carolina in 1956-1957 and North Carolina State in 1972-1973.
The Orange beat a well-rested Duke team. The Blue Devils were 5-0 this season when playing on four or more days of rest.
What other numbers were of note in this game?
Key to victory: Syracuse's ability to score
The Orange shot a season-best 57 percent from the field. Syracuse outscored Duke in two areas-- 42-32 in the paint and 26-12 at the free throw line.
Syracuse's last 23 points came in the paint or at the line.
Ennis cool under pressure
Tyler Ennis had 14 points and matched his career high with nine assists. He had eight points (including six free throws) and three assists in the final five minutes of regulation and in overtime.
Ennis is shooting 50 percent and has 17 assists and no turnovers in the final five minutes (and overtime) of games this season.
Star Watch
C.J. Fair scored a career-high 28 points for Syracuse, including 18 points in the paint. Duke freshman Jabari Parker finished with 12 paint points, but missed seven of his 13 shots in the paint and was 0 for 3 outside the paint.
Parker has fouled out of two games this season, both losses.
Duke shuns mid-range game
Duke made 31 field goals and all 31 came in two areas- in the paint or behind the 3-point line.
The Blue Devils took 72 shots from the field and only four were on mid-range shots. They finished with 16 baskets in the paint, none from mid-range and 15 from behind the 3-point line.
The 15 3-point field goals was the most allowed by Syracuse since Robert Morris had 16 in the 2008 NIT. It was the most made by Duke since it made 15 against Bradley on December 8, 2010.