Entering Monday, the Washington Wizards had been at or below .500 for 355 straight games, easily the longest streak in the NBA entering Monday (the next-longest streak is now 63 games by the Milwaukee Bucks). The Wizards had failed to get over .500 in each of their last 11 chances, including their first seven this season.
But they're now over .500 for the first time since they were 2-1 after a win over the Nets on October 31, 2009. That was more than 1,500 days ago and prior to the start of John Wall's career.
Washington got there the hard way, winning back-to-back games against teams with win percentages of at least .700—the Oklahoma City Thunder and Portland Trail Blazers. They've beaten both those teams, as well as the Miami Heat on Jan. 15, by double figures.
The Elias Sports Bureau notes that it's the first time since Jan. 12 & 14, 2008 that the Wizards got consecutive wins against teams with win percentages of .700 or better. In 2008 they defeated the Celtics in a home-and-home.
Key to victory: Defending the 3-point line
How are the Wizards winning? On the offensive side, Wall's play has a lot to do with it. But the defensive numbers are of note as well.
Over their last four games, the Wizards held the Thunder to 81 points, the Golden State Warriors to 85 points, and the Trail Blazers to 90 points Monday. That was 19 points below Portland's NBA-best season scoring average.
The Wizards defended the perimeter well in those games, holding those three teams to a combined 16 for 66 from 3-point range. The Trail Blazers were the second straight team to struggle at 3-pointers from straight-on. Oklahoma City was 2 for 18 from that area in its loss.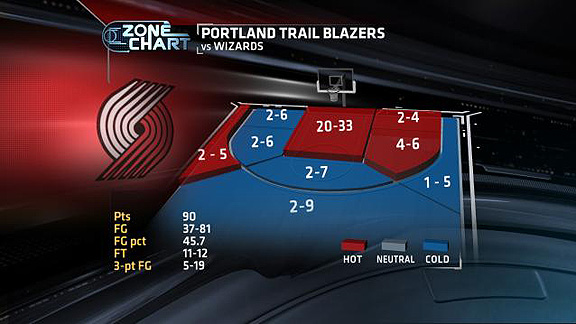 ESPN Stats & Information
Unsung hero: Kevin Seraphin
Backup forward Kevin Seraphin had a season-high 19 points in 23 points off the bench on Monday. He has made a nice impact in his last 10 games, making 33 of 52 shots (63 percent), including 7 of 10 against the Trail Blazers.
Where they stand
The Wizards are in a good place right now as far as playoff positioning goes, albeit with a long way to go to get there.
They currently would be the No. 5 seed in the East, with a 2 1/2-game cushion on the No. 7 seed. That puts them in position to avoid the Indiana Pacers and Heat in Round 1 of the playoffs.