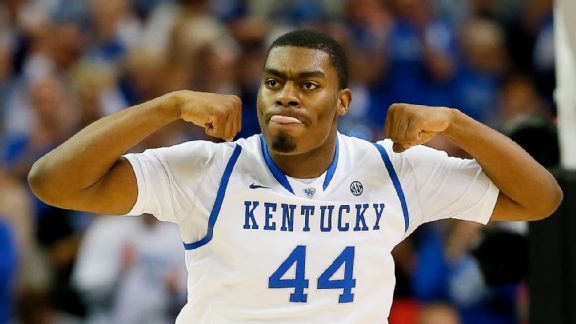 Kevin C. Cox/Getty Images
Dakari Johnson and Kentucky received a worse seed than BPI would have given themComparing the top of the NCAA men's basketball championship field to ESPN's Basketball Power Index shows a lot of similarity in how the selection committee and ESPN's rating system evaluated teams. Although 31 of the 36 at-large teams in the field would also have been selected had only BPI been used to select the field, there are notable differences in the seeds of some prominent teams and how BPI would have placed them.
2014 NCAA Tournament
No. 1 Seeds
BPI rankings corresponded with the first three No. 1 seeds, as Arizona, Florida, and Wichita State are the top three teams in BPI (in that order). But unlike in the previous two official seasons of BPI, the No. 1 overall seed (Florida) is not the No. 1 team in BPI as of Selection Sunday.
The fourth No. 1 seed is Virginia, which is sixth in BPI. Ahead of Virginia in BPI are Louisville and Kansas.
That said, in each of the three official seasons of BPI, the No. 1 seeds all have been ranked in the Top 6 on Selection Sunday. And for the second straight year, three of the four No. 1 seeds ranked better in BPI than RPI.
Differences between committee, BPI
Most Underseeded Teams in Field According to BPI
Among the teams in the field, below are those that are most "overseeded" according to BPI (based on their seed if only BPI were used to seed the 68 teams). Second-seeded Michigan was given a seed four spots better than its BPI would suggest, while four other schools are overseeded by three lines from where their BPI ranking would put them:
Similarly, in the chart at the right are the seven teams most underseeded according to BPI -- all at least three seeds worse than they should be, according to the metric. Kentucky, Pittsburgh and Iowa are each seeded five spots below where they would be if the field were seeded by BPI.
Snubs and undeserved bids
BPI was not designed to predict who would make the field of 68, but rather who deserved to make the field (and where they deserved to be seeded) based on a very specific measure of team strength based on its season results.
That said, 63 of the 68 teams -- more precisely, 31 of the 36 at-large teams -- that made the field would have also made the field if it had been selected entirely according to BPI.
The best-ranked at-large team that didn't make it was No. 33 Southern Methodist, while the worst-ranked at-large team that did make it was No. 66 North Carolina State.
Best BPI Rank Among Teams Not Selected / Worst BPI Rank Among At-Large Teams