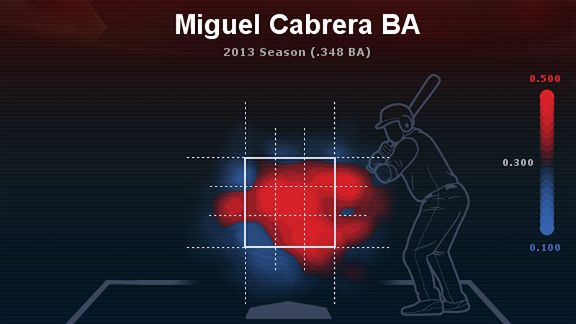 Michael Zagaris/Getty Images
Miguel Cabrera hits almost everything.The Detroit Tigers have reportedly agreed to a new 10-year deal with Miguel Cabrera that will be worth $292 million. It would be the largest deal in major league history.
Cabrera's accomplishments
For his career, Cabrera has 365 home runs, 1,260 RBI and a .321 batting average. Only seven other players have ever amassed those numbers over an entire career. Six of them are in the Hall of Fame. The other is Albert Pujols.
Over the past 10 seasons, Cabrera's average season is a .324 batting average with 35 home runs, 120 RBIs and 191 hits. He's played 1,573 games in that span, which trails only Ichiro Suzuki's 1,588.
Consecutive 25 HR/100 RBI Seasons,
MLB History
Cabrera has 227 homers and 737 RBIs over the last six seasons, both of which rank as the best in baseball.
Over the past three seasons, Cabrera has totaled a major league-best 22.1 WAR (wins above replacement).
Cabrera has also been clutch: His slash line with runners in scoring position and two outs over the past four seasons is .389/.545/.717.
His ability to drive the ball separates him as well. He hit home runs on 25 percent of his fly balls last season, a rate that trailed only Chris Davis (27.9) in the American League.
Cabrera can hit any pitch. Over the past five seasons, he has 35 home runs on pitches that were inside and out of the strike zone. No one else has more than 25.
The 10-year deal
There are not a lot of completed 10-year deals from which to draw upon. New York Yankees shortstop Derek Jeter had one from 2001 to 2010, during which he accumulated 41.1 WAR and netted $189 million.
Troy Tulowitzki and Pujols are in the midst of 10-year deals. Tulowitzki's started in 2011, and in the first three seasons, he's missed 170 games and posted 11.8 WAR.
Pujols also had injury issues that caused him to miss 63 games in 2013, the second year of his 10-year contract with the Los Angeles Angels.
Now-suspended Yankees third baseman Alex Rodriguez had a pair of 10-year deals, the first of which ran from 2001 to 2007 before he opted out. In that seven-year span, he averaged eight WAR per season. In the second iteration of that deal, one that runs until he is 42 years old, he's averaged 3.6 WAR over six seasons.
Among those starting 10-year deals this season are Cabrera, Joey Votto and Robinson Cano.
What are the chances it's worth it?
Let's use Baseball-Reference WAR to take a quick look at the expectations for Cabrera.
If the Tigers hope that Cabrera will be worth 40 WAR over the course of the contract, that wouldn't be unprecedented. There are 21 instances since 1900 of a player tallying 40 WAR in a span of a maximum of 10 seasons that began with their age-31 season.
These include some of the greatest players of all time: Babe Ruth, Barry Bonds, Willie Mays, Hank Aaron, Stan Musial and Ted Williams.
Only nine players accumulated 50 WAR over that span.
However, Baseball-Reference lists Cabrera as weighing 240 pounds. The most WAR accumulated over a maximum 10-year span by a player listed at 220 pounds or heavier and age 31 or older is Jim Thome's 32.4.
One potential comparable for Cabrera could be Frank Thomas. Over a 10-year period from 1999 to 2008, starting with his age-31 season, "The Big Hurt" averaged 23 homers and 74 RBI, with a .277/.390/.521 slash line and played an average of 109 games per season.
Another could be Andres Galarraga, who had the advantage of playing in hitter-friendly Colorado. Over the 10 years from 1992 to 2001, Galarraga had a .302/.361/.550 slash line, averaging 27 homers, 91 RBI and 119 games from ages 31 to 40.