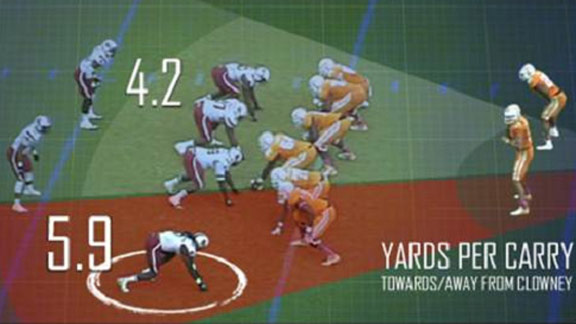 Photo illustration by Trevor Ebaugh
Teams actually had more success running at Jadeveon Clowney than running away from him.South Carolina's pro day is Wednesday, which means that the top defensive prospect in this year's NFL Draft will have a chance to show what he can do best.
Gamecocks defensive end Jadeveon Clowney ranks third in South Carolina history with 24 career sacks and second with 47 tackles for loss. He holds the school record with nine forced fumbles.
Clowney played in 11 of South Carolina's 13 games this past season, lining up mostly as right defensive end. When lining up as the right defensive end, opponents ran to his side on 28 percent of their rushing plays. However, teams were successful when running toward him because of the double teams often thrown Clowney's way in those situations, as noted in the chart on the right.
South Carolina Rush Defense
With Clowney Lined Up as RDE, 2013 Season
Although Clowney's sack total decreased by 10, he had 14 hurries last season, second among SEC defenders and tied for 11th among defenders from automatic-qualifying conferences.
Biggest strength: Speed
The 266-pound Clowney ran a 4.53 40-yard dash at the NFL Combine. Clowney's time is the fastest at the NFL Combine by any player measured at least 260 pounds since 2006.
Clowney's 4.53 40-yard dash at the NFL Combine was the fifth fastest of any defensive lineman since 2006 and 0.08 seconds faster than an average running back's 40-time.
Among quarterbacks who have entered the league since 2006, Robert Griffin III was the only NFL starter in the 2013 season who ran a faster time in the 40-yard dash than Clowney at the NFL Combine. Colin Kaepernick matched Clowney's time.
Draft Outlook
Each of the past six SEC Defensive Player of the Year winners before Clowney (and co-winner, Michael Sam) has been selected in the top-11 in the NFL Draft.
South Carolina's only player drafted No. 1 overall was George Rogers in 1981 by the New Orleans Saints. The school's most successful defensive alumnus is John Abraham, who has made five Pro Bowls in 14 seasons. His 133.5 sacks rank ninth all-time.
Abraham was selected 13th overall by the New York Jets in 2000.