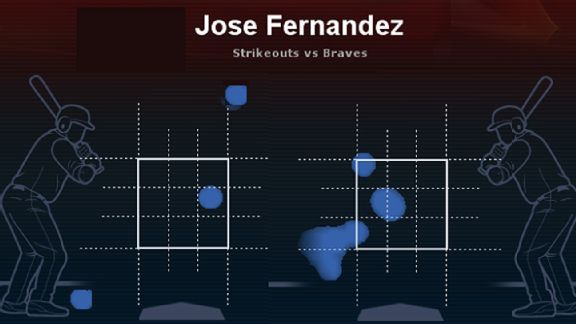 Baseball Tonight picked a good day to debate who the best pitcher in baseball is.
Jose Fernandez left little reason to vote for anyone other than him.
Fernandez finished with 14 strikeouts and no walks in a 1-0 win, the second pitcher ever to have such a line against the Atlanta Braves. The Elias Sports Bureau notes that the other was Nap Rucker in a no-hitter for the Brooklyn Dodgers (then known as Superbas) in 1908.
Fernandez became the fifth pitcher in the Divisional Era (since 1969) with a pair of 14-strikeout games before turning 22. The others are Dwight Gooden (5), Jose Rijo (2), Frank Tanana (2) and Kerry Wood (2).
How he dominated
Fernandez had a devastating breaking ball, one that netted him 11 strikeouts, nine of which were swinging.
Fernandez's fastball averaged 96.1 mph, the third fastest average in a game in his career.
He finished with 26 swings-and-misses, four more than any other game he's pitched in his career.
Making his case
Fernandez has a 2.16 ERA and 0.97 WHIP in 33 starts since the start of last season. The only pitcher to rate better in those stats is Clayton Kershaw, who is currently on the disabled list.
However Fernandez's opponents' batting average in that span is .184, 11 points better than Kershaw's, and his opponents' OPS against (.522) trails Kershaw's by only three points.
On the other side
Alex Wood threw 8 innings for the Braves, gave up 1 run and got the loss. It was his second straight loss allowing one run in eight innings or more.
He's the first pitcher to have two straight such starts in a row since Mike Norris of the 1980 Athletics and the first in the National League since Tom Seaver for the 1973 Mets.
Elias Sports Bureau Stats of the Night
Fernandez (age 21) and Wood (age 23) both had at least 11 strikeouts.
This is the second time since 1900 that two pitchers age 23 or younger both had at least 11 strikeouts in the same game.
The other game was on July 31, 1901, when the Reds' Noodles Hahn (age 22) had 11 and the Cubs' Long Tom Hughes (age 22) had 15.
Fernandez is the fifth-youngest pitcher to have a 14-strikeout, no-walk game in the Modern Era (since 1900), the youngest since Kerry Wood had his 20-strikeout, no-walk game against the Houston Astros in 1998.
The teams combined for 28 strikeouts and no walks. This is the first time in the modern era that two teams combined for at least 28 strikeouts and no walks in a game.