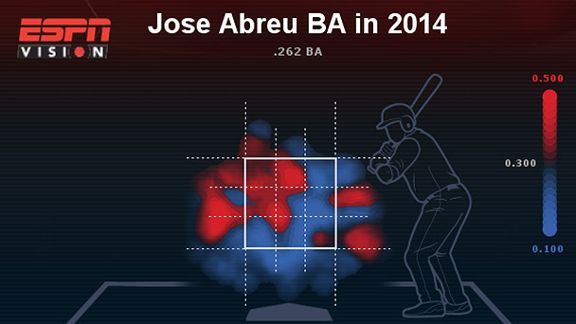 Jose Abreu's ability to hit the outside pitch has been huge so far.Jose Abreu's dominant hitting through the first month of the season is a credit to his ability to reach out and crush the outside pitch.
Abreu is the first rookie to hit 10 home runs by the end of April and the first to have 30 RBIs by the end of April.
The Elias Sports Bureau noted that he's the first rookie with 10 homers and 30 RBIs in a calendar month since Al Rosen and Luke Easter both did it for the Cleveland Indians in June 1950.
Eight of the 10 home runs have come against pitches on the outer half of the plate or off the outside corner, including the three he hit against the Tampa Bay Rays over the weekend.
His eight home runs and .797 slugging percentage against outer-half pitches both rate best in baseball.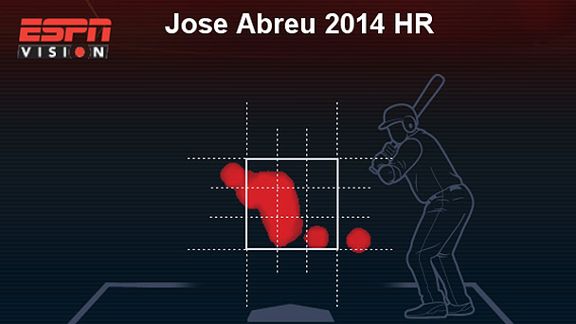 The success even applies to pitches out of the strike zone. He has seven hits on pitches that were out of the strike zone and either on the outer-third of the plate (but too high or too low) or off the outside corner, including two doubles, a triple and a home run. In at-bats ending with an out-of-the zone pitch that was outside, he's hitting .350.
Abreu's six extra-base hits against pitches out of the strike zone rank second in baseball to the game's best all-around player, Mike Trout.
Abreu's accomplishments are impressive when compared against a fellow Cuban rookie slugger, Yasiel Puig. Abreu's 31 RBIs through 26 games are nearly twice as many as the 16 Puig had in his first 26 games.
Abreu's homer and RBI totals are nearly as good as Frank Thomas had in his best month for the two. Thomas had 13 home runs and 31 RBIs in August 2003.
Abreu has been a bit of an all-or-nothing hitter against outer-half pitches so far. He has missed on 34 percent of his swings against them, about 9 percentage points above the major-league average.
Abreu is still adjusting to the inside pitch in terms of trying to hit it for power, with two home runs on 91 swings against inner-half (or off the inside corner) pitches. He has 8 on his 127 swings against those outer-half pitches.