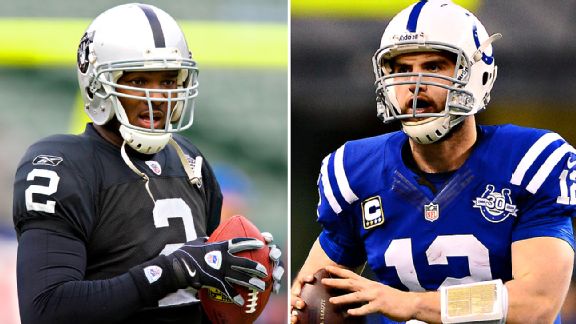 JaMarcus Russell, Andrew Luck: The risk and reward of using a first-round pick on a quarterbackThe NFL Draft is a high-stakes proposition. If a team misses on its first-round pick, it could set a franchise back for years.
Look no further than the Cleveland Browns, who selected Brandon Weeden, Trent Richardson and Barkevious Mingo in the first round of the past two NFL Drafts. In 2013, the Browns missed the playoffs for an 11th straight season and then fired their general manager for a second consecutive year.
With such a premium set on first-round draft picks, it would be nice to know which positions and players are the riskiest and the safest.
Using Pro-Football-Reference's Approximate Value calculation, ESPN Stats & Information set out to answer this question.
How to measure success?
The most difficult part of a study such as this one is comparing success across positions. Not all positions produce "box score" stats, and Pro Bowls, starts and Super Bowl appearances are not the best measures of efficiency.
As noted above, Pro-Football-Reference has a statistic called Approximate Value (AV) that attempts to assign a single number to the seasonal performance of every NFL player. For a full description of the Pro-Football-Reference's methodology click here, but it can be thought of as football's version of WAR or Win Shares.
To measure success, we took the Approximate Value of every player picked in the first round of the NFL Draft from 2003 to 2012. We chose to look only at a player's AV through his first four seasons because that is the length of his first contact. Then we put everything on a per-season basis to account for players who were drafted most recently.
Next we broke the players down into three equal categories based on their Approximate Value per year: Productive, Average and Unproductive.
How to measure risk?
In the stock market, the riskiest stocks are the ones that are the most volatile, meaning the stock's future value has the potential to be spread out over a large range of values. However, the riskiest stocks also have the highest potential for big gains.
Volatility also comes into play when evaluating risk in the NFL draft. The riskiest positions are the ones whose players have the most variance in performance; the safest positions tend to have a high percentage of their players perform around the same range.
Based on these definitions, it should be no surprise that quarterback is the riskiest position to select in the first round and offensive line is the safest.
Quarterbacks = Riskiest position
From 2003 to 2012, there were 31 quarterbacks selected in the first round of the NFL Draft. Excluding Aaron Rodgers, who sat behind Brett Favre for three seasons before becoming a full-time starter, 15 quarterbacks were "productive," 10 were "unproductive" and only five were considered "average" in their first four seasons, according to our Approximate Value breakdowns.
Quarterbacks Drafted in First Round, 2003-2012
The 2011 NFL Draft demonstrates the "boom-or-bust" nature of drafting a quarterback early. Cam Newton, Jake Locker, Blaine Gabbert and Christian Ponder were all selected in the first 12 picks of the draft. Among those players, only Newton has a solid starting job next season. Jacksonville, Minnesota and Tennessee could all potentially draft another quarterback in the first round just three years later.
In the 2014 draft class, quarterbacks Blake Bortles, Johnny Manziel, Teddy Bridgewater and Derek Carr have been discussed as potential first-round draft picks. Given that all four quarterbacks come with significant question marks, teams will be taking an even higher risk than usual by drafting these players with their first pick.
Wide receivers = Next riskiest
Aside from the obvious risk that comes with drafting a quarterback, wide receivers are the next riskiest position to take early.
Players such as A.J. Green, Percy Harvin, Julio Jones and Larry Fitzgerald provided significant value in their first four seasons. However, for every wide receiver who was a success there were similar stories of first-round wide receivers who did not make it through their first contract.
Charles Rogers, Rashaun Woods, Craig (Buster) Davis and Mike Williams are wide receivers selected in the first round who did not make a significant impact with the teams that drafted them.
The volatility of the wide receiver position makes it one of the hardest positions to project, yet many draft analysts are predicting a record year for first-round wide receivers in 2014. Mel Kiper Jr. has six wide receivers projected in the first round in his Mock 6.0, which would be one shy of the modern draft record.
The current record was set in the 2004 draft when seven wide receivers were selected in the first round. Three of those wide receivers were in the top third of the AV calculation through their first four seasons and three were in the bottom third.
Draft risk by position, 2003 to 2012: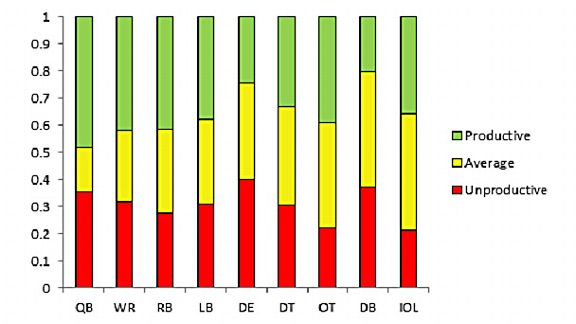 Top 10 draft picks vs. Rest of first round
Most Volatile Positions,
Top 10 Picks Since 2003
The results do not change significantly when looking at just the top 10 picks of the NFL Draft.
Quarterbacks remain the most volatile position with JaMarcus Russell, Andrew Luck, Blaine Gabbert, Matt Ryan, Matt Leinart and Eli Manning all selected in the first 10 picks.
The biggest difference when looking only at the top 10 picks compared with the rest of the draft is that linebackers are more risky. Linebackers selected with the top 10 picks in the past 10 seasons include Von Miller, Ernie Sims, Luke Kuechly, Vernon Gholston, Jerod Mayo and Keith Rivers.
No matter where a team is selecting, it must evaluate the risk and reward of drafting various positions in addition to assessing whether a player fits with its team's needs and schemes. Awareness of all of these factors will set teams up for organizational success for years to come.