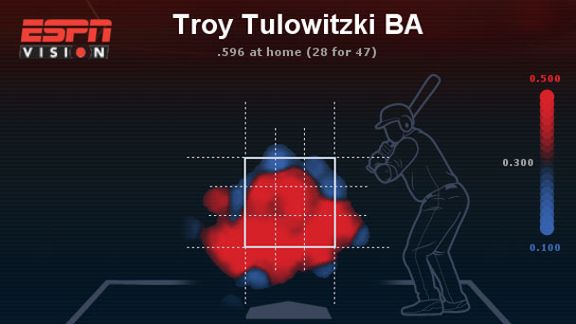 Troy Tulowitzki is almost impossible to get out at home.Sunday we told you what's to like about the San Francisco Giants as they try to unseat the Los Angeles Dodgers in the NL West.
This time, we'll tell you what's to like most about the Colorado Rockies, or the three things to like most from Monday's rout of the Texas Rangers.
Troy Tulowitzki is in a zone
On the day shortstop Troy Tulowitzki was named NL player of the month and NL player of the week, he added two more home runs to his ledger, giving him nine for the season.
TulowitzkiMore amazingly, he was able to raise his batting average at Coors Field this season from .591 to .596 and raise his RBI total to 21 in 14 games. He's now 28-for-47 at home, including 15-for-18(!) with four home runs with men on base.
The Elias Sports Bureau notes that the .596 batting average is the highest by any player in his first 14 home games of a season (minimum 40 plate appearances) in baseball's modern era (since 1900).
Tulowitzki has taken 91 swings at home this season. They've resulted in 28 hits and as many extra-base hits (12) as swings and misses.
Nolan Arenado is, too
It would seem odd that a player with a 25-game hitting streak isn't the hottest hitter on his team, but that's the case for third baseman Nolan Arenado.
Arenado pulled to within two games of the Rockies' record for longest hitting streak (held by Michael Cuddyer), extending his streak to 25 games with a second-inning home run.
Arenado
Arenado is hitting .354 (35-for-99) during the hitting streak. Perhaps more impressive is that he has a higher batting average on the road this season (.338) than he has at Coors Field (.290).
Monday's home run came on a 93 mph pitch in the lower half of the strike zone from Martin Perez.
Arenado already has three homers on lower-half pitches this season. He had only four on the 1,019 pitches he saw in that area in 2013.
Jordan Lyles solves Coors Field
Rockies starter Jordan Lyles had his third straight really good start at home, allowing two runs in eight innings. He's now 2-0 with a 1.25 ERA in three home starts in 2014.
Lyles
Lyles is the second pitcher in Rockies history to start his time with the team with three straight home starts in which he allowed two earned runs or fewer in at least six innings pitched, joining Joe Kennedy (2004).
Lyles has tamed the ballpark by inducing ground balls. He has nearly identical ground-ball rates at home (54 percent) and on the road (53 percent). Opponents are 3-for-36 when hitting a grounder against him at Coors Field this season, including 1-for-13 in each of his past two starts.