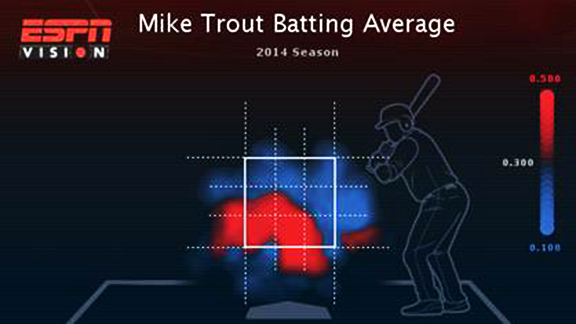 ESPN Stats & Information
Mike Trout is really struggling to hit pitches up and in this season.Entering this season, much was made about Mike Trout's comments regarding how he intended to be more aggressive early.
Mike Trout Last 2 Seasons
While his swing rate is up slightly overall (and on the first pitch of an at-bat), the real story through the first month and a half is the fact Trout is making contact a lot less this season when he does swing.
The most surprising leaderboard from the first quarter of the season may be that, entering Tuesday's action, Trout is tied for first in the American League in strikeouts with 47.
TROUT'S STRIKEOUT/SWING & MISS ISSUES
Trout's production is down this season and the biggest difference is a massive increase in strikeouts, which naturally results in fewer balls in play.
Trout is whiffing far more often against pitches in the strike zone, and pitchers have been able to strike him out while keeping the ball in the zone.
Nearly half of his strikeouts last season came against a pitch in the strike zone. This season, almost three-quarters of his strikeouts are via a pitch in the zone.
His batting average on pitches in the zone – which he should crush – has fallen from a top-15 mark of .350 in 2013 to a below-average .291 in 2014.
DIVING DEEPER: INSIDE TROUT'S STRUGGLES
It appears that Trout is struggling with pitches up in the zone, and specifically when pitchers challenge him inside as well. As you can see in the heat map above, the 'blue/cold' area is most pronounced up and in, an area that was largely 'red' last season.
Mike Trout vs Pitches in Upper Half
Last 2 Seasons
Last season, 43 percent of his hits came on pitches on the inside, but that rate has dropped to just 23 percent this year.
Perhaps the most telling stat of his "up-and-in" struggles is this: No hitter is producing hard contact less often against pitches in the upper half this season than Trout.
WHAT A DIFFERENCE A MONTH MAKES
Trout's contact issues have been a season-long problem, but recently his entire offensive production has collapsed. After putting together an MVP performance in April during which he led the AL in WAR, he has just five hits in 38 at-bats in his first 10 games in May.
Pitchers are challenging him more this month -- throwing more fastballs and pitches in the zone -- and he hasn't taken advantage like he did in April.
Mike Trout This Season
He is hitting just .111 on pitches in the strike zone and is 3 for 24 vs the heater this month.
It also appears that pitchers have recognized his inability to do anything with pitches up in the zone and have been pounding that area with a lot of success.
His rate of pitches seen in that location has increased from 34 percent in April to 42 percent in May, and Trout has just one hit in 13 at-bats ending in a pitch in the upper half of the zone this month.
Furthermore, Trout is really struggling to pull the ball with any authority in May. He has one hit to left field this month, a groundball single on May 2. He had 17 hits, including 10 extra-base hits (5 doubles, 1 triple, 4 home runs), to left field in April.
--Katie Sharp contributed to this post