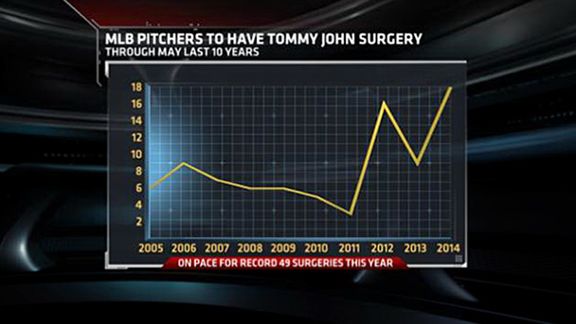 ESPN Stats & Information
Tommy John surgeries among major-league pitchers are on the rise.The Miami Marlins have confirmed the news that baseball fans feared the most: Jose Fernandez has a torn UCL and will need Tommy John surgery, sidelining the ace pitcher for at least 12 months.
Notable MLB Pitchers
Had Tommy John Surgery This Year
Fernández will be the 18th major-league pitcher to have Tommy John surgery this year. That's the most ever through the month of May and would equal as many as there were all of last season.
Since the surgery was first performed in 1974, only one year has seen more than 18 MLB pitchers undergo the surgery: in 2012 major-league pitchers got 35 Tommy John surgeries.
The trend among pitchers who need the surgery this year has been young players, with an average age of 27 years old.
Just one of the 18 MLB pitchers to have Tommy John surgery in 2014 was older than 30 -- Peter Moylan, who is 35 years old -- and it was the second time Moylan had the surgery.
Signs of trouble?
José Fernández vs Matt Harvey
At Time of Tommy John Surgery
Prior to Fernández's injury, perhaps the most notable recent pitcher to undergo Tommy John is Matt Harvey last fall.
The two had very similar careers prior to undergoing the surgery, including each making the same amount of starts.
The Marlins were careful not to overwork Fernández, as they managed both his pitch counts and innings during his MLB career.
Among the 104 pitchers to make at least 30 starts over the last two seasons, Fernández ranks 72nd in pitches per start. He threw more than 110 pitches only once in 36 starts and more than one-third of his starts were 90 pitches or fewer.
One sign of trouble in his last start was a sharp decline in his velocity. Fernández's fastball averaged 94.6 MPH over his first four innings and only 90.7 MPH in his last two. He allowed four runs in the sixth inning before being removed with nobody out.
Impact on Marlins
The Marlins obviously have a much better chance of winning when Fernandez takes the mound compared to other Marlins starters. Over the last two seasons, they are 23-13 (.639) when Fernández starts and 59-106 (.358) when anyone else does.
According to Elias Sports Bureau, only one team has a larger positive difference in its win percentage since 2013 when a particular pitcher starts in comparison to all other games (min. 15 starts by that pitcher). The Diamondbacks are 23–9 (.719) during that period when Patrick Corbin starts and 73-98 (.427) in other games.
The Marlins are off to one of their best starts in recent seasons at 20-19 and just two games back in the NL East. However, with Fernández now out of the rotation, their chances of playing in October take a big hit. According to NumberFire.com, the Marlins' playoff odds declined from 22.5 percent to 12.4 percent with the news that Fernández is out for the season.