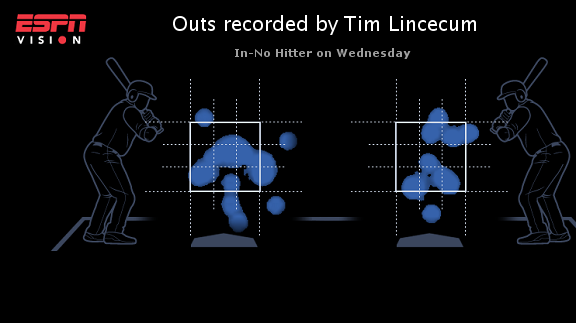 Tim Lincecum made things a little easier for himself the second time around.
Lincecum threw his second career no-hitter in beating the San Diego Padres on Wednesday afternoon in San Francisco. Both no-hitters have come against the Padres, with the other coming last season.
2014 STATS
Lincecum and Clayton Kershaw, who were once featured on an ESPN The Magazine cover together, threw a no-hitter eight days apart.
The Elias Sports Bureau noted that Lincecum is the second pitcher to have two no-hitters against the same team. Hall of Famer Addie Joss had a pair against the Chicago White Sox in 1908 and 1910.
Lincecum is the fourth active pitcher with multiple no-hitters, joining Homer Bailey, Mark Buehrle and Justin Verlander.
He becomes the fourth pitcher to have multiple Cy Young Awards and multiple no-hitters, joining Roy Halladay (whose two include one in the postseason), Randy Johnson and Sandy Koufax. Lincecum and Koufax are the only two with multiple no-hitters, multiple Cy Young Awards and multiple World Series rings.
Lincecum entered the day with a 6.85 ERA in four starts this month. With runners on base, opponents were hitting .333 with three home runs.
Lincecum kept the Padres off the bases, walking one and facing only one batter over the minimum. He threw 113 pitches, 35 fewer than he had in his first no-hitter.
He is the second Giants pitcher to throw multiple no-hitters, joining Hall of Famer Christy Mathewson (1901, 1905)
He can hit, too
Lincecum was the first pitcher with multiple hits in a no-hitter since Rick Wise, who homered twice in his no-hitter in 1971, and (as noted by Elias) Lincecum became the first to reach base safely at least three times since Hall of Famer Jim Palmer for the 1969 Baltimore Orioles.
How he won
Lincecum threw his fastball on only 36 percent of his pitches, his lowest percentage in any start in the past three seasons and his third-lowest percentage in 236 career starts.
Tim Lincecum Career No-Hitters
He induced 14 outs with his changeup, eight of which came after he threw a fastball on the previous pitch, including two of three strikeouts.
Lincecum got 12 ground-ball outs, his most in the past three seasons. That played right into the hands of the Giants' defense. Opponents are hitting .209 on ground balls against the Giants this season, the second-lowest average in the majors.
Lincecum took 17 hitters to a two-strike count and retired seven via ground ball. In his previous no-hitter, he took 25 hitters to a two-strike count and retired three on ground balls, instead finishing with 13 strikeouts.
Lincecum was more efficient in his no-hitter Wednesday compared to last season's. He got four outs on the first pitch Wednesday compared to none in his previous no-hitter.
It's been rough going for the Padres
The Padres entered the day hitting .216 and ranking last in the majors in batting average, on-base percentage, slugging percentage and runs per game.
They were hitting .182 and slugging .280 in June, 47 and 51 points, respectively, lower than the next-worst teams.