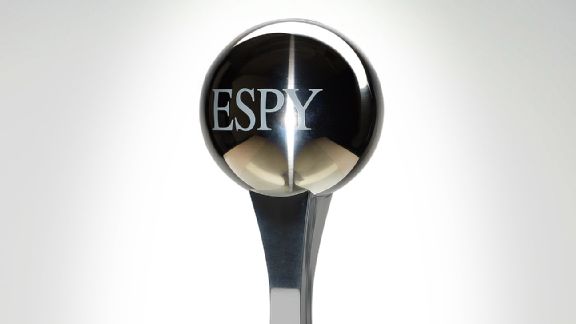 Adam Pretty/Getty Images
This is what they hope to win.With the ESPY Awards almost upon us, let's take a look at three of the top categories to provide statistical insight into who may walk away with the trophy as Best Male Athlete, Best Female Athlete and Best Team.
Best Male Athlete
Miguel Cabrera – MLB
Cabrera led the majors in batting average (.348) and finished second in home runs (44) and runs batted in (137). His 9.0 offensive wins above replacement was second in MLB. Cabrera became the first player to win consecutive MVP awards in the AL since Frank Thomas in 1993-94 and just the seventh man in AL history.
Kevin Durant – NBA
Durant was the first player since Shaquille O'Neal in 1999-2000 to lead the NBA in points per game (32.0), player efficiency rating (29.9) and win shares (19.2). Durant also made history this season by becoming the fourth player to average at least 32 points, 7 rebounds and 5 assists, joining Hall of Fame players Michael Jordan, Wilt Chamberlain and Elgin Baylor.
Peyton Manning – NFL
Manning set the NFL single-season records for passing TDs (55) and passing yards (5,477). Manning had a Total QBR of 95.8 in the red zone as well as an overall Total QBR of 82.9, which ranked second in the league. Manning was spectacular in his first two playoff games, putting up QBR numbers of 91.1 and 88.8 to get to his second Super Bowl.
Floyd Mayweather – Boxing
Mayweather defeated Saul "Canelo" Álvarez by landing almost double the punches (232 to 117) en route to a majority decision victory. That fight also set the record for largest gate in Nevada State Boxing history at over $20 million. Mayweather then defeated Marcos Maidana by majority decision in May. Mayweather landed 54 percent of total punches and 65 percent of power punches. He earned $105 million for the two fights.
Best Female Athlete
Maya Moore – WNBA
Moore was named the 2013 WNBA Finals MVP for the Minnesota Lynx, averaging 20 points per game in a three-game sweep of the Atlanta Dream. Moore was the top three-point shooter in the regular season at 45.3 percent and scored 18.8 points per game, third in the league.
Ronda Rousey – MMA
Rousey moved her MMA record to 10-0 over the past year, recording the first two knockouts of her career in wins over Sara McMann and Alexis Davis. In December, Rousey won her eighth fight by armbar when she defeated Miesha Tate at UFC 168. In her last three fights, Rousey has landed 77 percent of her takedowns.
Mikaela Shiffrin – Alpine Skiing
Shiffrin became the youngest Olympic slalom gold medalist when she won in Sochi at age 18. She ended the 2014 season as the reigning Olympic, World Cup and world champion in slalom. In the 2014 season, Shiffrin won five times and had six podiums in slalom.
Breanna Stewart – WCBB
Stewart led the UConn women's basketball team to their second national title in a row and in doing so won her second consecutive Final Four Most Outstanding Player award. Stewart led the team in points per game (19.4) and rebounds per game (8.1) and in the national title game scored 21 points (18 in the paint) to lead the Huskies.
Best Team
Boston Red Sox – MLB
The Boston Red Sox won their third World Series in 10 years by leading the majors in runs scored, slugging and OPS. David Ortiz led the charge for the Red Sox, hitting .688 (11-for-16) with two home runs and six RBIs in the World Series while Jon Lester went 2-0 with a 0.59 ERA.
Los Angeles Kings – NHL
The Los Angeles won their second Stanley Cup in three years with Jonathan Quick in net. Quick won 43 games (regular season and playoffs) and posted a 2.07 GAA (fifth-lowest). In the playoffs, Justin Williams took home the Conn Smythe for playoff MVP, scoring nine goals with 16 assists, including the OT winner in Game 1. The Kings had a plus-17 goal differential in the 3rd period/OT (plus-1 in first two periods).
San Antonio Spurs – NBA
The San Antonio Spurs were sixth in both points per game (105.4) and fewest points allowed (97.6) which helped them lead the NBA in wins with 62. The Spurs set the NBA Finals record in the three-point era (since 1979-80) for effective field goal percentage (60.4 percent) and offensive rating (118.5). Tim Duncan became the all-time leader in playoff double-doubles, but Kawhi Leonard was the star. Leonard averaged 17.8 points on 61 percent shooting in the Finals, becoming the second-youngest Finals MVP.
Seattle Seahawks – NFL
The Seattle Seahawks defense ranked first in points per game allowed, receiving yards allowed and total yards allowed. In the Super Bowl, the Seahawks shut the Broncos high-scoring offense down, winning by 35 points which was the third-largest win in Super Bowl history. Russell Wilson threw 26 touchdowns in the regular season and in the Super Bowl put up a Total QBR of 88.1. Richard Sherman led the NFL with eight interceptions and caused the interception that sent the Seahawks to the Super Bowl.
UConn Women's Basketball – WCBB
The Connecticut Huskies are one of eight teams to finish the season undefeated after their 40-0 season. The Huskies finished the season outscoring opponents by 34.3 points per game while holding opponents to just 47.8 points per game. Along with Breanna Stewart, Bria Hartley was second on the team with 16.2 points per game and center Stephanie Dolson scored 17 points and grabbed 16 rebounds in the Huskies national title win over Notre Dame.
Florida State Football – CFB
Florida State won the national championship and completed at 14-0 undefeated season by averaging 51.6 points per game. On defense, FSU led college football in both interceptions (26) and interceptions returned for touchdowns (5). Heisman Trophy winner Jameis Winston had an 88.5 adjusted QBR and threw for over 4,000 yards and 40 touchdowns. He threw the game-winning touchdown pass in the national title game to Kelvin Benjamin, who was second on the team in receiving yards (1,011) and led the team with 15 touchdowns.