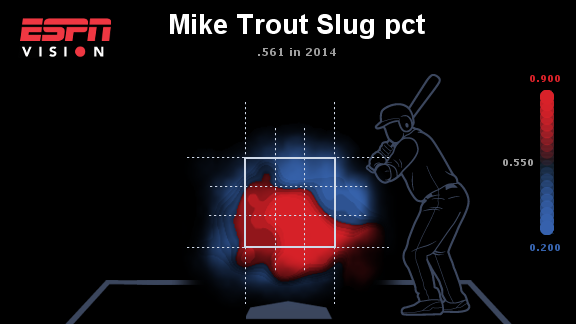 Mike Trout is among the best low-ball hitters in the game.Part of a series of articles from Stats & Information using pitch-performance data, heat maps and spray charts to look at the key hitters in each series.
Mike Trout might be the most exciting player in Major League Baseball. He has a rare combination of speed and power some have compared to Mickey Mantle.
A big reason for his success is that Trout crushes pitches low in the zone.
Trout slugged .696 on pitches in the lower-third of the strike zone or lower this season, over 150 points better than the next-closest qualified hitter (Justin Upton, .538). In fact, it's 80 points higher than any other qualified hitter's season in our dataset (Joey Votto, .616 slugging percentage on low pitches in 2009).
His 22 homers on pitches in the lower-third of the strike zone or lower are more than any other player in a single season since 2009.
But as effective as Trout is against low pitches, he's just as ineffective against pitches in the upper third of the zone or higher.
He batted .087 against those pitches, third-worst out of 147 qualified hitters. He had just eight hits in 92 at-bats ending with a pitch up.
Worst BA vs Pitches Up
2014 Season
The conundrum for Kansas City when strategizing for Trout is that their Game 1 starter, Jason Vargas, does not pitch up in the zone very often. In the regular season, he threw just 19 percent of his pitches in the upper-third of the strike zone or higher, 78th lowest out of 88 qualified pitchers.
That makes sense for Vargas who does not have electric velocity. He averaged just 87.2 miles per hour with that pitch, sixth slowest in the majors. He topped out at 90.4 miles per hour, which is the fifth-lowest maximum fastball velocity of any qualified pitcher this season.
But even with the low velocity, the numbers suggest that Vargas should still work up in the zone.
Trout hit just .118 off of high pitches 90 miles per hour or slower, eighth worst in the majors. He missed on over a third of his swings against those pitches.
He only missed on a little over a quarter of his swings against low pitches that were 90 miles per hour or slower (26.4 percent), which was in the top 20 in the American League.
Whatever he does, Vargas should try to avoid throwing Trout hard stuff in the lower half of the zone. Trout was 1-for-2 in at-bats ending with a fastball in the lower half against Vargas this season.
That one hit was a titanic 489-foot blast to center field in Kauffman in June, the longest home run of his career and the longest hit by any player all season.
---
The Athletics appeared to have a very specific gameplan when it came to pitching to Kansas City Royals first baseman Eric Hosmer on Tuesday night. Hosmer saw 22 pitches in his six turns and 19 of those were on the outer-third of the plate or further outside. He turned three of them into hits, including the rally-starting triple in the 12th inning, and laid off enough of the others to draw two walks.
#35 1B
Kansas City Royals
2014 STATS
GM

131

HR9

RBI58

R54

OBP.318

AVG

.270
Hosmer had a nice September, hitting .309 with a .900 OPS (including the playoff game). How would the Angels be best served to defend against him in the ALDS? Here are some key points to keep in mind.
Hosmer can handle pitchers from either side
Hosmer is not the typical left-handed hitter that struggles against left-handed pitching.
As Jon Lester saw on Tuesday, he's a formidable foe. Hosmer has hit .299 against lefties over the last two regular seasons and .283 against right-handed pitching. He's 17 for his last 45 with three doubles and two home runs against lefties and is hitting .315 against righties dating back to July 1.
The challenge for Hosmer will be in facing Angels lefty starter C.J. Wilson. Wilson has held left-handed hitters to a .195 batting average over the last three seasons.
You can get him out away, but jamming him might work better
The A's pitched Hosmer away because his numbers against pitches to that area aren't usually that impressive.
But he's arguably more vulnerable when he's pitched inside.
If the Angels pitchers can locate inside, they'd be well served to do so to Hosmer. He hit .204 with a .572 OPS against pitches on the inner-third of the plate, both of which ranked in the bottom 15 percent among major-league hitters (and there was little difference in when he was facing a lefty or righty).
Interesting matchup: Hosmer vs Joe Smith
Hosmer doesn't have extreme numbers against any particular pitch type among the fastball, curveball, slider and changeup, other than that he's vulnerable against curveballs from either lefties or righties.
But he does have a good history against sinkers. He's averaged a hit for every 8.3 sinkers he's seen over the past three seasons against that pitch.
Smith, the Angels eighth-inning specialist and occasional closer, lives off the sinker. He's thrown it 70 percent of the time.
Hosmer is 2-for-4 against Smith, with a double and a homer in his last two at-bats against him the last time they met in 2013.
The triple was an aberration
Hosmer's triple on Tuesday was an extremely unusual hit for him. Take a look at the image below of where Hosmer got his hits at home this season. That last at-bat Tuesday was the only time all year Hosmer hit a deep fly ball to the opposite field that resulted in a base hit.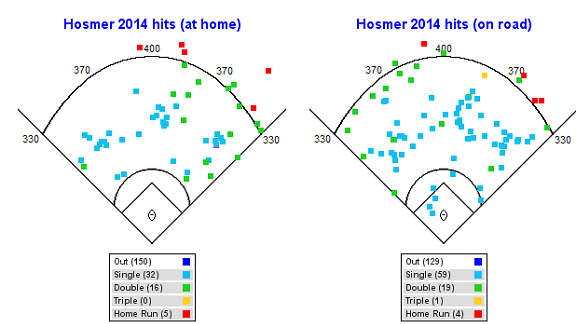 Eric Hosmer's regular-season hits show he tends to pull them at home, spray them on the road.
The at-bat underscores an important point to remember for the defenses. At home, when Hosmer lifts the ball, he's trying to pull it. On the road, under the right circumstances, Hosmer will spray the ball more to center field and left center field and can drive the ball into the left-center gap. The left fielder who would play Hosmer shallow in Kansas City might want to take a few steps back in Anaheim.
It's not worth it to shift
Hosmer's tendencies are such that they don't warrant a shift. He pulled only 42 percent of his ground balls this season, which rated 220th out of 247 hitters with at least 100 ground balls this season.
Yet some teams do choose to shift him, including the Angels, who used a partial shift against him 10 times over the last two seasons. It hasn't gone well. Hosmer is hitting .321 on ground balls and short line drives hit against shifted defenses in the last two seasons. He's hitting .277 on all other grounders and short liners in that span.