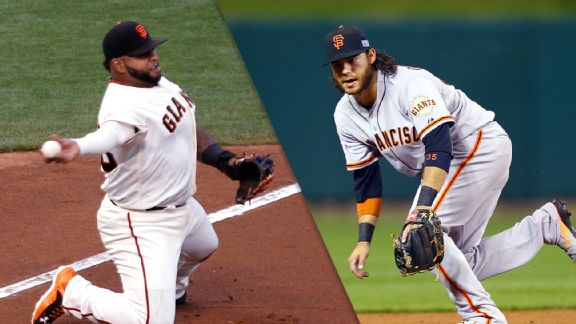 USA TODAY Sports/Getty Images
Pablo Sandoval and Brandon Crawford have been valuable for their defense this postseason.The Kansas City Royals outfield defense has gotten a lot of press, and rightfully so, for its outstanding work this postseason.
Highest Out Rate on Grounders/Bunts
Regular Season
But let's not forget about the infield defense of the San Francisco Giants.
There may not be any Gold Glove candidates among the quartet of Brandon Belt, Joe Panik, Brandon Crawford and Pablo Sandoval, but the Giants infield has been among the best in the majors this season.
The Giants were one of only four teams this season to get positive Defensive Runs Saved contributions from each position in the infield, along with the Baltimore Orioles, Cincinnati Reds and Colorado Rockies.
During the regular season, the Giants turned 76 percent of ground balls and bunts hit against them into outs, the second-highest rate in the league (three percentage points above the major-league average)
In the playoffs, they've upped that to a 78 percent out rate. Here's how each of their infield defenders has excelled.
3B Pablo Sandoval
Forget Sandoval's girth, as it's not pertinent to his play on the defensive side this season. Sandoval improved from -5 Defensive Runs Saved in each of the last two seasons to a positive contribution of four Defensive Runs Saved.
What's notable about Sandoval is how often he makes plays compared to how often he errs.
Most Good Fielding Plays at 3B
2014 Season
Baseball Info Solutions tracks every batted ball and categorizes them as Good Fielding Plays (about 30 different types of Web Gem-caliber plays) and Defensive Misplays & Errors (60 categories, which we'll simply refer to as "Bad Plays").
Sandoval's ratio of Good Plays to Bad Plays was 2 to 1 in 2014 (60 to 30). That was second-best among all third basemen, trailing only Josh Harrison. He's made his share of good ones this postseason.
SS Brandon Crawford
Crawford may not be Atlanta Braves shortstop Andrelton Simmons, but he rates as one of the sharpest shortstops in the majors.
Crawford ranked seventh among shortstops during the regular season with eight Defensive Runs Saved. He also had the third-most "Out of Zone" plays(plays outside areas in which a shortstop turns at least 50 percent of balls into outs) with 83, one more than Simmons.
That's probably why no one was surprised that Crawford stuck with the ground ball that deflected off Pablo Sandoval and was able to get an inning-ending forceout in a key spot in the ninth inning of Game 5 of the NLCS.
2B Joe Panik
Panik's strength is the double play. He converted 79 percent of double play opportunities (man on first, less than two outs) in which he was either the fielder or pivot man, the highest rate among major-league second basemen.
Highest DP conversion rate
2B in 2014
In the playoffs, he's been an out-getter, looking better than his numbers. He's played 99 innings and handled 39 chances without making an error (and converted six double plays).
In fact, the Giants have done a terrific job at gobbling up balls hit to the right side. They've turned 54 out of 61 grounders and bunts hit to the right side (defined as right of the second base bag) into outs (89 percent). The Royals, by comparison, have converted 43 of 53 into outs (81 percent).
That's a credit both to him and to the guy playing first base, who we'll get to next.
Brandon Belt
Belt hasn't put up super numbers at first base, but he's been consistent. Over the past three seasons, he has 12 Defensive Runs Saved. He rates adeptly at covering ground both down the line and in the hole. And in the postseason, he's handled difficult throws without issue.
This is important because ...
The Giants infield will be tested against the Royals. Kansas City hitters ranked sixth in the majors this season in ground-ball frequency.
And the Royals have had a lot of success on ground balls this postseason. They've reached at the equivalent of a .320 batting average when hitting the ball on the ground. The Elias Sports Bureau notes that their 15 infield hits this postseason are one fewer than all the rest of the postseason teams combined. The Athletics, Angels and Orioles couldn't stop them. We'll see if the infield playing the best defense in the playoffs can do any better.