In 2011, NFL MVP Aaron Rodgers threw 45 touchdowns and six interceptions in 502 attempts, leading the league in Total QBR (87.1) and touchdown-interception differential (plus-39, higher than all but three other quarterbacks' touchdown totals).
A Stats & Info panel selected it as the third-best season ever in October 2013, and Rodgers has been almost as good this year.
Aaron Rodgers Passing
Just as in 2011, Rodgers' touchdown-interception differential (plus-17) not only leads the league, but is a higher total than all but three quarterbacks' touchdown totals. Rodgers has one interception in 211 attempts this season (0.5 percent of passes), best in the league among quarterbacks with at least 100 attempts.
Rodgers has thrown at least three passing touchdowns and no interceptions in four straight games, tying Tom Brady in 2007 for the longest streak in NFL history (according to the Elias Sports Bureau).
Someone has to catch Rodgers' touchdowns, and he has a pair of wide receivers whose production rivals any duo in the league.
Randall Cobb (eight touchdowns) and Jordy Nelson (six) have at least twice as many combined touchdown receptions as all but three other sets of wide receiver teammates.
Most TD Receptions By WR Teammates
This Season
Rodgers is the only quarterback in the top three in completion percentage, touchdown-interception differential and QBR targeting wide receivers this season.
When Rodgers gets to the red zone, he has found Cobb to be a very effective option.
Cobb has seven touchdowns on 12 targets (58 percent), the highest percentage of any player with at least seven targets. Though Cobb leads all wide receivers in touchdown catches, it's Nelson whom Rodgers relies on the most.
Nelson has 72 targets, more than the next two Packers receivers combined (Cobb and Davante Adams, 71).
Only Antonio Brown has more yards than Nelson, who has been almost unstoppable along the right sideline. Rodgers is 21-of-27 for 379 yards, three touchdowns and no interceptions targeting Nelson along the right sideline.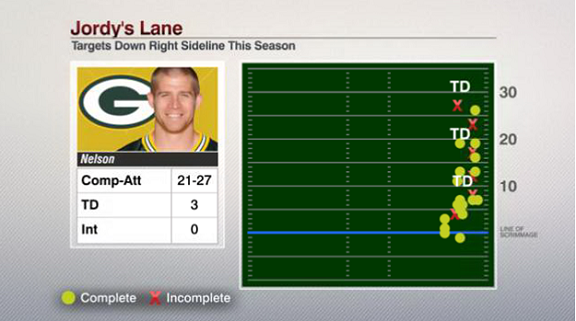 The chart illustrates the success Rodgers and Nelson have had on downfield throws along the right sideline, a precise window that they've perfected this season.
The duo has combined for 10 completions for 286 yards and three touchdowns on those throws, all league highs. Rodgers is averaging 17.5 yards per attempt on those throws overall, almost 2 full yards more than any other quarterback (Charlie Whitehurst, 15.6).