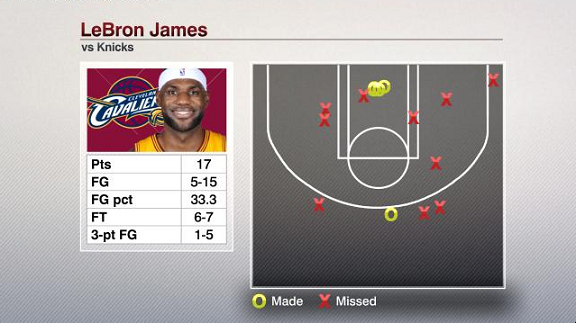 LeBron James returned to the Cleveland Cavaliers on Thursday night.
But the New York Knicks spoiled the welcome home party in a big way.
James had one of the worst games of his career in the 95-90 loss.
He shot 5-for-15, was 1-for-9 outside the paint and had eight turnovers.
James was 3-for-4 in transition, but shot 2-for-11 in the half-court offense.
This was the first game of James' career (regular season or postseason) in which he had at least eight turnovers, fewer than 20 points and fewer than five assists.
Cavaliers With James/Love/Irving
On Court Together - vs. Knicks
The various combos didn't work
The Cavaliers were outscored by 13 points with James on the court. They outscored the Knicks by eight points in the 4 minutes, 46 seconds in which he didn't play. James had only one home game last season in which he had a minus-13 or worse.
The Cavaliers' big three of James, Kevin Love and Kyrie Irving were outscored by three points when all three of them were on the court. But the Cavaliers couldn't score when one was out, shooting 41 percent when the big three weren't on the floor.
In particular, James and Irving were not a potent combo on this night. The Cavaliers were outscored by 12 points when James and Irving were on the court together. They outscored the Knicks by seven when at least one was on the bench.
Knicks make their jumpers
One night after shooting 31 percent on jump shots, the Knicks made 23 of 45 (51 percent) against the Cavaliers.
The Knicks were 8-for-20 on jump shots judged to be open looks by video review against the Bulls. They were 11-for-15 on those shots against the Cavaliers.
The Cavaliers did not make their jump shots. They were 14-for-43 when shooting from more than 10 feet away from the basket.
Carmelo Anthony came up with a big game after having been outscored and outshot by James in their previous three head-to-head meetings. He finished with 23 points, and shot 6-for-10 for 17 points when guarded by James.
Unsung hero of the game
Travis Wear had two points, two rebounds and two assists in his 13 minutes off the bench for the Knicks.
But he held James to 0-for-4 shooting from the field when he was James' primary defender.