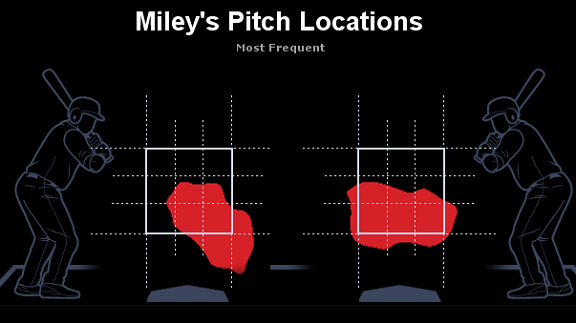 The Boston Red Sox didn't sign Jon Lester, but they've reportedly added a left-handed pitcher with a skill set that is to their liking by trading for Diamondbacks southpaw Wade Miley.
MileyMiley's numbers jumped a bit in 2014. He had a 4.34 ERA, a big jump from the 3.44 ERA he posted in 2013 and 2012 combined. But a look beyond that shows some things that the Red Sox management found to be of value.
What does Miley bring to his new team?
Innings-Eater
Miley is one of 15 pitchers to throw at least 190 innings in each of the last three seasons. The only pitchers younger than him on that list are Clayton Kershaw and Madison Bumgarner.
Strikeouts and Ground Balls
Miley was one of 14 pitchers to qualify for the ERA title and have a strikeout rate of at least 20 percent and a ground-ball rate of at least 50 percent in 2014.
He gets ground balls because of his ability to keep the ball down. He threw 59 percent of his pitches in the lower third of the strike zone or below in 2014, the highest percentage for anyone who threw at least 100 innings.
Miley was hurt a little bit more by ground balls than he had been previously. Opponents had a "reached-base percentage" (via hit or error) of .277 on ground balls and bunts against him. Their reached-base percentage was .254 from 2012 to 2013.
Controlling the running game
Miley excels in controlling the running game. Baserunners are 15-of-34 in steal attempts against him for his career. He's never allowed more than five stolen bases in a season.
Miley's 10 pickoffs since the start of 2013 are tied for sixth in the majors.
Getting out of Arizona
Miley has been much more effective on the road than at home over the last two seasons, which is tied directly to the long ball.
He's allowed 29 home runs in Arizona the last two seasons, giving him a 4.90 ERA there. He's yielded only 15 on the road, where his ERA is 3.13.