The sight of outfielder A.J. Pollock falling to the ground and grabbing his broken elbow was not what the Arizona Diamondbacks were hoping for as a prelude to the 2016 season. But like it or not, the cards have been dealt and the Diamondbacks have adjusted their outfield plans to play their hand accordingly. The question now is whether those adjustments are temporary or whether they should be expected to last all season.
Pollock underwent surgery April 5 to repair his olecranon (tip of the elbow) fracture, and the Diamondbacks have indicated it will be at least three months before he can resume baseball activities, leaving the door open for a potential late-season return. But, Dr. Don Sheridan, the orthopedic hand and upper extremity specialist who performed the surgery on Pollock alongside Diamondbacks' chief orthopedist Dr. Gary Waslewski, has also allowed for the possibility that Pollock might not make it back in 2016. The open-ended timetable is by design, given the variety of unknowns in play when it comes to Pollock's recovery.
Here's a look at the olecranon: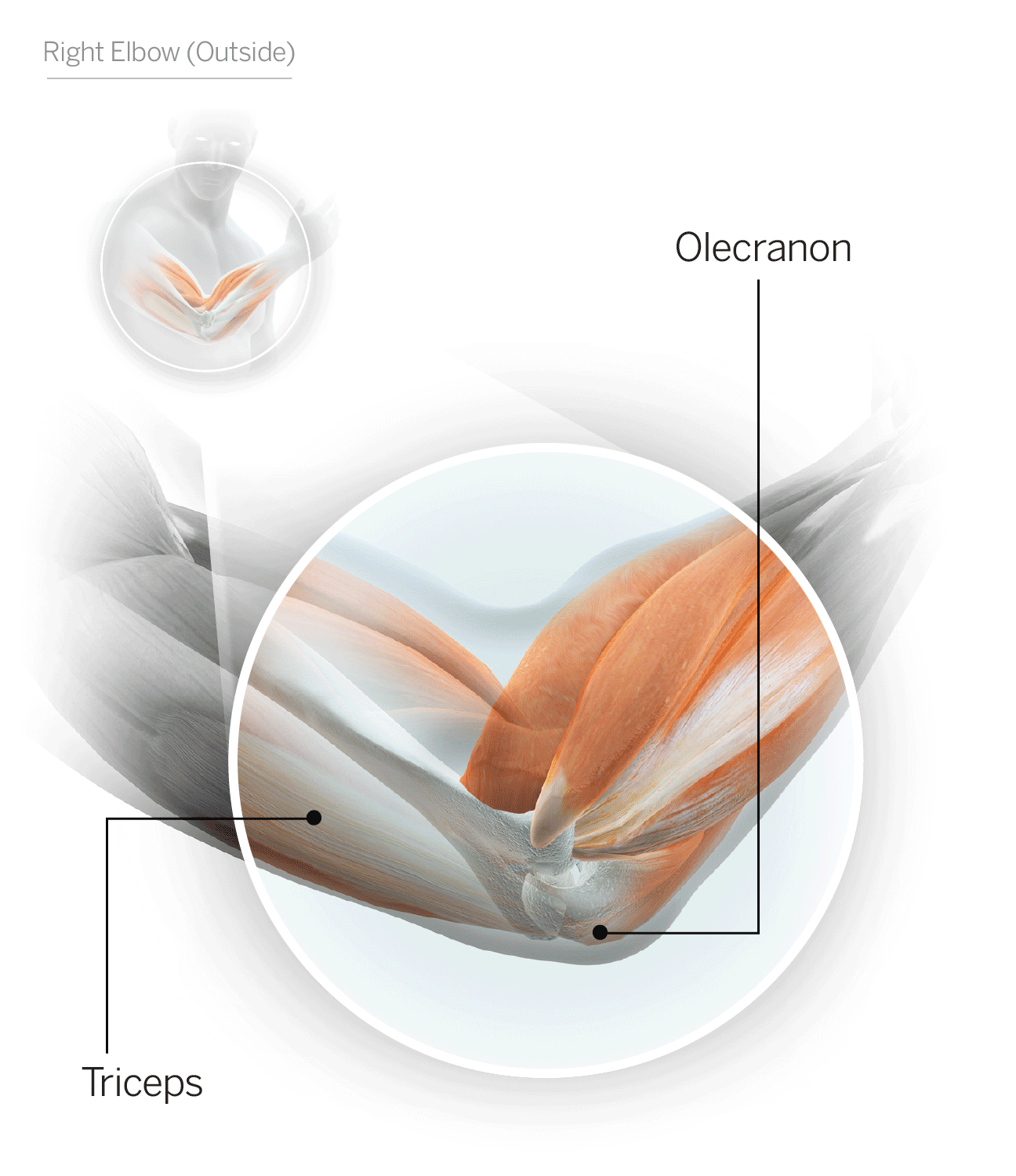 Anyone following Pollock throughout the spring knew there was cause for concern. Soreness in his right elbow, the same one he fractured and had surgically repaired in 2010, sidelined him for the bulk of spring training. Given his history of a previous fracture in the area of soreness, it would have been reasonable to suspect a failure of the bone to completely heal as a possible source of the pain. According to Pollock, X-rays of the elbow earlier this spring showed precisely that -- a failure of the fracture site to fuse completely -- along with an additional surprise. "We actually took an X-ray of it, and it kind of shocked me," Pollock told reporters. "The screw was broken."
For those who would rush to suggest this should have been immediately addressed with surgery, Dr. Jeffrey Dugas, orthopedic surgeon at Andrews Sports Medicine and Orthopaedic Center in Birmingham, Alabama, offers some words of caution.
"There is no problem surgery can't make worse," said Dugas, who has operated on numerous baseball players ranging from youth to professional.
Dugas points out that surgery should always be the last resort, and undertaken only when the situation requires it. Despite how painful the presence of broken hardware sounds, athletes can often function at a very high level with only minimal interference or discomfort. Dugas, who has not treated Pollock and does not have access to his medical records, says based on the information made available to the media, he would have approached this type of case in a similar fashion.
Out of necessity, Pollock's second fracture changed the course of action. Instead of playing through residual soreness, he now required another surgery to repair the latest fracture. This time the hardware reinforcement to stabilize the fracture would be boosted.
Dugas notes there is hardware designed for this type of injury. "We typically use a pre-contoured rigid titanium plate, intended specifically for a fracture of the olecranon."
The plate/screws inside A.J. Pollock's right elbow. pic.twitter.com/ZZa1eTlav7

— Arizona Diamondbacks (@Dbacks) April 9, 2016
The fixation was even outfitted with an aptly named "home-run screw," a longer screw that traverses the fracture site.
In Pollock's case, the surgeons also used bone graft material from his hip to help with healing.
"Bone marrow is rich in stem cells and other factors that promote healing," Dugas said. "Adding biologic enhancement to the surgical fixation shows they're pulling out all the stops to help ensure the best outcome."
Surgery is only the first step; the bone has to actually heal. Given the failure to heal following his first surgery six years ago, Pollock has to proceed with caution in the early stages to optimize the chances for healing this time. That process alone is likely to take a minimum of six to eight weeks. Range of motion and strengthening exercises are progressed gradually. Once substantial healing is evident, Pollock can be progressed to light baseball activities such as gentle swinging and throwing. The timetable issued by Sheridan indicates he doesn't anticipate those being introduced until three months post-surgery; or, approaching the All-Star break.
When a return to unrestricted activity in all areas is factored in, along with adequate playing exposure to replace the spring training games Pollock didn't get, the timeline begins to approach the five- to six-month mark. It doesn't require looking at dates on the calendar to appreciate how narrow the window remaining in the 2016 regular season would be.
None of these markers are etched in stone. With the new hardware and the biologic enhancement, Pollock's elbow could demonstrate good early healing, or his elbow could still prove to be resistant. Even if the bone repair appears satisfactory, the road to Pollock regaining full strength in his arm -- true baseball strength as measured by hitting and throwing at the major league level -- is unpredictable.
The bottom line is Pollock's new injury is superimposed upon an older, chronic injury, compounding the difficulty in attempting to determine a true timeline. Even if the fracture appears to heal well, the Diamondbacks might opt for a more conservative approach when it comes to their star outfielder's return to competition. It would come as little surprise if the next time Pollock took the field was in 2017.
And, he should take his time. If A.J. Pollock with a damaged elbow could play well enough to earn All-Star and Gold Glove honors, don't we all deserve to see what he could potentially achieve with this injury completely in the rearview mirror?