Just when it seemed enough time had passed to allow those fantasy owners nervously anticipating a Troy Tulowitzki injury to finally exhale, the Rockies' star shortstop is indeed hurt again. He suffered a broken rib making a diving defensive play Thursday night, and is expected to be out for more than a month.
It's actually Tulo who is the one finding it difficult to breathe. According to the Denver Post, Tulowizki was having difficulty breathing after suffering the injury to his right side in the eighth inning. He was taken to a local hospital, where an MRI revealed a rib fracture. "I'm just really upset. I worked so hard [to get back]," Tulowitzki said in a text message to the Denver Post. "I'm in a lot of pain right now; I'm not sure how long [I'll be out]."
MLB.com is reporting Tulowitzki is expected to miss four to six weeks. There are several factors that make this injury particularly difficult not only for a baseball player, but for a shortstop in particular. The first issue is the bone healing; there must be sufficient evidence that the bone is repairing itself before allowing an athlete to return to high-level baseball activities. That process typically requires three to four weeks, although it can take longer depending on the fracture location, whether it is displaced or not and the individual's general capacity for healing. During the early stages of recovery, unlike many other injuries in which the athlete can at least maintain cardiovascular training to some degree, rib injuries must be kept quiet. All movements are painful -- reaching, twisting, leaning and sometimes even just quiet breathing (no movement at all) -- which makes it impossible to tolerate the increased breathing demands of cardio training. Naturally, there is some deconditioning that occurs as a result.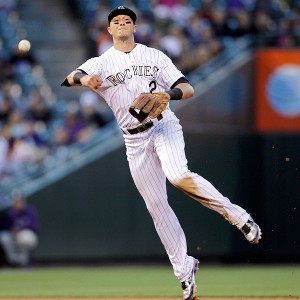 AP Photo/Joe Mahoney
Being a shortstop, Troy Tulowitzki puts an added stress on his body that many players don't have.
Even after the rib heals to the point where the athlete can move more freely and resume cardio workouts, there are still the challenges of the sport itself. In baseball, the demands on the ribs are high both on offense and defense, for a shortstop in particular. The torsion through the rib cage that accompanies swinging a bat (even checking a swing) or cross-body defensive throws is exceptionally high. There is also the frequent leaping or diving necessary to make a catch, which stresses the rib cage either by stretching or by contact. A baseball player also needs to potentially absorb collision when running the bases or sliding. All of these factors have to be taken into consideration when evaluating the timeline for Tulowitzki's return, along with restoring his conditioning to one of game readiness. The latter part of the four-to-six-week timetable seems reasonable, but it could certainly take longer. As always, the time frame must be considered fluid.
Perhaps you remember the challenges Red Sox outfielder Jacoby Ellsbury faced when trying to return following rib fractures in 2010. His original injury was in April, and although he attempted to return twice, he played in only 18 games that season before ultimately being shut down. Dodgers pitcher Zack Greinke had a rib fracture entering spring training while with the Royals in 2011 and did not return to the mound until the first week of May. Granted, the positional demands are different -- he was in the AL, so he didn't have to hit -- but the torsion involved in pitching is similarly stressful.
Meanwhile, it seems unfair that Tulowitzki is out again with a lengthy injury. He has been beset by several injuries in recent years, including season-ending surgery in 2012 to repair core muscles and address scar tissue around a nerve in his left groin area. He worked diligently in his rehab following surgery to ensure he would be in good shape to start the 2013 season, and he was. After 58 games, he has a .347 batting average with 16 home runs. More important, he was playing consistently, even though it meant taking planned days off at times in the interest of long-term health management of his left leg. Unfortunately, Tulowitzki is again being forced to the sideline for at least a month, and the first threshold he must cross is simply being able to breathe without pain.