Current Chicago Cubs broadcaster Bob Brenly knows well that baseball is a game in which one moment of greatness can make up for earlier futility. It was on this date, 25 years ago, that Brenly came through with the standard-setter for redemption.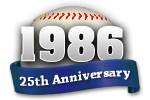 It was 15 minutes prior to the start of a nondescript, non-impactful game between the San Francisco Giants and Atlanta Braves that Brenly, ready to catch that day, was approached by his manager, Roger Craig. Third baseman Chris Brown was unable to go, so in a last-second switch, Craig moved Brenly to third base.
Brenly wasn't foreign to third base (he'd played the position before, but did have to borrow a glove from teammate Brad Wellman), but in the fourth inning, he played like he was.
"I think I booted one to my left, one to my right, and one straight at me," Brenly said, able to speak cheerfully about the memory 25 years later. "I mixed in a throwing error for good measure. I blame [pitcher] Mike LaCoss. A good pitcher knows how to keep the ball away from guys playing out of position. In retrospect, I wish I'd gotten a fifth error. Then I could have stood alone in the record books."
Brenly's four miscues tied a major league record and led to four runs, all unearned, and a 4-0 deficit. Brenly was known for having a bit of a temper. He remembered third base umpire Charlie Williams keeping his distance as the errors mounted. When Brenly got back into the dugout, all his teammates moved as far away as they could.
"I was known to take my anger out on the bat rack," Brenly said with a laugh. "I think they were expecting a snap."
Instead, what Brenly felt was something completely different. He'd never experienced it before and never did any time afterward.
"A major feeling of calm came over me," Brenly said. "It was like the entire game slowed down, but I moved at a regular speed."
Brenly's time "in the zone" lasted for five-and-a-half innings. He homered in the fifth, then singled in two runs as part of a four-run game-tying rally in the seventh inning. He also fielded a ball cleanly, prior to moving to catcher for the eighth inning.
In the home ninth, Brenly came up with the score tied, 6-6. Braves reliever Paul Assenmacher threw him a 3-2 slider. Brenly guessed right and launched it over the left-field fence for a game-winning home run.
"The pitches looked like beach balls to me," Brenly said. "It seemed like that one took five minutes to get to the plate."
The best observation after the game came from Craig, who told Brenly: "You should get comeback player of the year for that game alone."
"A lot of managers would have hooked me after making four errors," Brenly said. "I'm forever grateful to Roger that he didn't."
Mark Simon is the Baseball Research Specialist for ESPN Stats and Information. Follow Mark on Twitter @msimonespn and the Mets blog at ESPNNewYork.