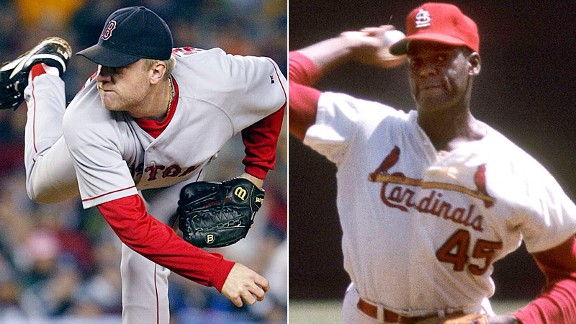 AP Photo/Getty Images
There are many ways by which Curt Schilling's best statistical match is Bob Gibson.
Fill in the blank: Curt Schilling was to his era what _____ was to his era.
The answer that best supports Schilling's Hall of Fame candidacy is to say "Bob Gibson." Take a look at the chart on the right. That runs through the basic statistical gamut, when it comes to looking at the two side by side. The key stat is their ERA+.
Curt Schilling/Bob Gibson Careers
ERA+ is a stat found on Baseball-Reference.com, designed for cross-era comparison. I feel comfortable in using these stats because I know they're the kind that Schilling likes. He devised one similar to ERA+ on his blog and used it on Baseball Tonight.
ERA+ rates a pitcher's ERA relative to his peers at the time, making slight adjustments based on the difficulty of pitching in the various ballparks of the era. It allows us to compare Gibson's 2.91 to Schilling's 3.46 on an even playing field, since Schilling pitched in an era that was more offensively friendly. Gibson is a 128 ERA+. That's elite. It's tied for 13th-best among those who threw at least 2,000 innings since 1920 (or, the Live Ball Era).
It's the same ERA+ as Tom Seaver. It's better than that of Jim Palmer, Juan Marichal, Warren Spahn. Bert Blyleven, and plenty of other Hall of Famers. And it's the same ERA+ as Schilling.
In fairness, Gibson put together his ERA+ by averaging 258 innings per season over a 15-year period. Schilling reached that number of innings only three times in his career. But for those who say that Schilling was not quite the workhorse that Gibson was, consider that each was a product of the baseball environment of the times.
Again, relative to their peers, the two were virtually equal. Gibson finished in the top 10 in his league in innings pitched eight times. Schilling finished in the top 10 in his league in innings pitched seven times. There's a similarity when it comes to awards voting as well. Each of them got Cy Young votes in four different seasons. Gibson won it twice (and won an MVP award in 1968); Schilling finished second three times.
Where the Gibson-Schilling comparison best comes across is in the postseason. In my father's era, Gibson and Sandy Koufax were the standard-setters for postseason pitchers. In my era (the last 30 years), with apologies to John Smoltz, Schilling is the standard-setter.
Lowest World Series ERA
Since 1946, Minimum 5 Starts
Gibson was 7-2, all in the World Series, with a 1.89 ERA in nine starts. Schilling played in an era with a different postseason format, but he was 11-2 with a 2.23 postseason ERA in 19 starts. As noted in that chart, he was 4-1 with a 2.06 ERA in seven World Series starts.
Again it's a neat comparison to look across the eras. In the stretch in which Gibson pitched in the postseason (1964 to 1968), all of the other pitchers to pitch in the World Series had an ERA of 3.43. Schilling's World Series ERA is a little higher than Gibson's, but again, consider the time period. From 1993 to 2007 (Schilling pitched in the World Series in 1993, 2001, 2004, and 2007), all pitchers other than Schilling combined for a World Series ERA of 4.04.
That's not to say that Schilling was the better postseason pitcher, statistically speaking. Gibson won a pair of Game 7s and had six out of nine World Series starts that tallied an 80 or better by Bill James Game Score, including an epic 17-strikeout start in Game 1 of the 1968 World Series. Schilling has three of his seven World Series starts that rate a 74 or better, with his "epic" being the 147-pitch shutout in Game 5 of the 1993 World Series.
The point isn't that Schilling is better than Gibson. By this standard, he isn't. The point is that Schilling was the Gibson of his time. Since 1969 (the year after Gibson made his last World Series starts), Schilling has those three World Series starts of 74 or better. No one else has as many (for the record, Tom Glavine is the only pitcher since then with a pair of 80s or better, but this piece isn't about him).
I'm not going to pretend that this is the perfect comparison. As my father pointed out, Gibson won with a combination of power and intimidation. Hitters feared facing him. But what Gibson had in fear factor, Schilling had in another area -- precision. He had the second-best strikeout-to walk rate in major league history.
This is not meant to be an advertisement for Schilling's Hall of Fame candidacy. Nor is it meant to establish who was the better pitcher. We go back to the original fill-in-the-blank, and it will be interesting to see what happens when the Hall of Fame ballots are cast in 2013. Gibson was elected on the first ballot. Schilling … we'll have to wait and see.