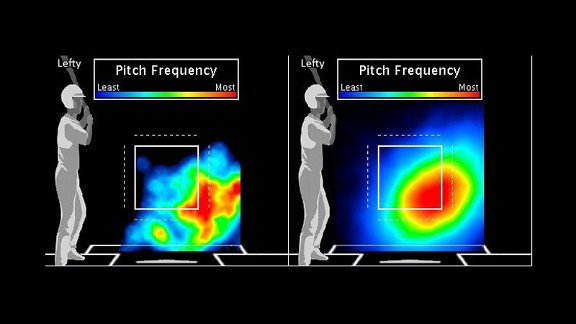 Left: Where Ryan Madson threw his changeup (2011)
Right: Where average RHP throws his changeup (2011)
Click here to create your own Madson heat maps
What's the best "neutralizer pitch" in baseball?
What we're asking is which pitch best shuts down hitters who bat from the side opposite of how the pitcher throws.
You might think, as a colleague suggested, that the standard-setter for right-handers is Mariano Rivera's cutter.
Best Save Pct in 2011
But because Rivera throws the pitch almost all the time, it doesn't quite have the value of the one that was the statistical champ for righties in 2011 -- Ryan Madson's changeup.
Madson, the newest member of the Cincinnati Reds, has had an effective changeup against left-handed hitters for much of his career.
Madson proved himself as a highly capable closer in 2011 with 32 saves in 34 chances, but a large reliever presence in the free-agent market, and a lack of teams wanting to make a long-term investment in a closer, diminished his payday.
The Reds end up being the team which can reap the benefits of Madison's work.
Madson's 2011 success was largely due to his holding left-handed hitters to a .198 opponents batting average and .506 opponents OPS, both of which rank among the best in baseball.
He did so with a changeup that was unlike almost any other pitch in the sport. Let's take a closer look at this pitch.
The Ryan Madson changeup
The image atop this article shows where Madson threw his changeup most often to lefties.
That pitch had the following characteristics:
An average of 10 inches of break to the right (the second-biggest amount in MLB).

It was out of the strike zone nearly 75 percent of the time.

Yet, it was swung at 65 percent of the time (second-most often among right-handers).

Hitters missed on more than half their swings (52 percent, third-best among right-handers).

Hitters chased 62 percent of pitches out of the strike zone (the highest chase rate for a righty in baseball).

It was put in play less than 25 percent of the time (fourth-least among right-handed pitchers).
Madson threw the pitch more than half the time in two-strike counts, and about 30 percent of the time in non two-strike counts. It was very effective in both instances.
The results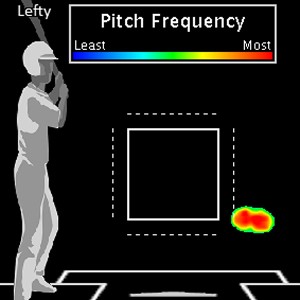 Locations for the 2 hits against Madson's changeup
Last season, Madson got 44 left-handed hitters out with his changeup, including the Braves quartet of Chipper Jones, Brian McCann, Freddie Freeman and Jason Heyward a combined seven times.
He allowed only two hits and one walk (to Prince Fielder) with the pitch. The hits were both by Nationals -- Scott Cousins and Danny Espinosa -- both in two-strike counts.
The image on the right shows where both pitches were located. They weren't exactly hanging over the middle of the plate.
Why is this pitch valuable?
In baseball, left-handed hitters generally perform better against right-handed pitchers than right-handed hitters do.
Those who can neutralize this advantage are very valuable, as Madson was for the Phillies.
Run Value Per Plate Appearances
Explanation
There is a "Next Level" stat -- Run Value Per Plate Appearance -- that can best establish the value of Madson's changeup.
In simplest terms, Run Value Per Plate Appearance weighs the positives accomplished with a pitcher's pitch (strikes and outs) against the negatives allowed (balls, hits, walks, hit by pitches).
Madson's Run Value per Plate Appearance with his changeup against left-handed hitters last season was -.276. This number is outstanding. In fact, only one pitcher had a pitch that neutralized opposite-hand hitters better than Madson's changeup last season -- Braves lefty Jonny Venters' slider had a -.281 RV/PA against right-handed hitters.
The Reds have taken an interesting approach to constructing the back of their bullpen for 2012 with the additions of Sean Marshall and Madson. It will bear watching to see if it makes a difference in neutralizing the Cardinals advantage in the NL Central.