For the next two weeks, "Baseball Tonight" (airing at 3:30 p.m. ET) will take a closer look at players in the spotlight for 2012 and ask the question "What's next?" for that player. Share your thoughts in the comments section and join the discussion.
There was a time in which Ichiro Suzuki could hit any pitch thrown anywhere, and that ability was part of the key to his streak of 10 straight seasons with 200 or more hits.
That run ended last season, as did his ability to hit pitches that were thrown out of the strike zone. Suzuki totaled 135 out-of-strike-zone hits in 2009 and 2010, but just 44 in 2011.
Ichiro vs. Pitches Out of Strike Zone
Thanks to the wonders of Pitch F/X technology, which features cameras in every ballpark tracking pitch location, we can estimate his performance by pitch location.
The chart on the right and the heat maps below do that.
It's an aspect of his game that will be worth watching this season to see if Ichiro can regain the form that made him one of baseball's most dangerous hitters.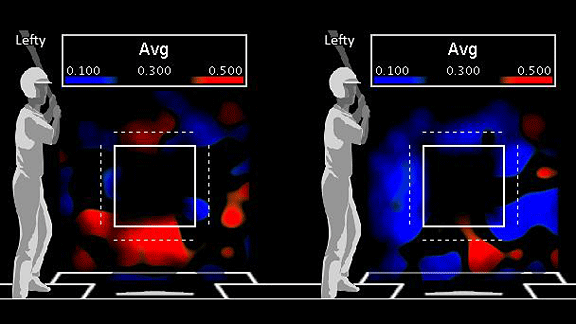 Left: Ichiro Suzuki versus out-of-strike zone pitches in 2009 (.323 BA, 70 H)
Right: Ichiro versus out of zone pitches in 2011 (.196 BA, 44 H)
Click here to create your own Ichiro heat maps
How will Ichiro do in 2012? Discuss below!