Jayson Werth's struggles in 2011 were largely a product of his performance against left-handed pitching. His batting average against lefties dropped more than 100 points and his OPS against them dropped more than 200 points.
Jayson Werth vs Left-Handed Pitching
Werth went from being a hitter who lined the ball all over the field against lefties to one who hit a lot of groundballs and harmless popups. The heat map below illustrates the issues he had.
Werth's 10 percent line-drive rate against lefties was the second-worst in the league among the 167 players who batted at least 100 times from the right side last season.
Werth's susceptibility against hard stuff inside from lefties greatly increased. He went from 22 hits against such pitches in 2009 and 2010 to just four in 2011.
Werth previously had a history of being a smart hitter when he fell behind in the count. He hit .250 against lefties in 2009 and 2010, but was 9-for-71 in such situations against lefties in 2011.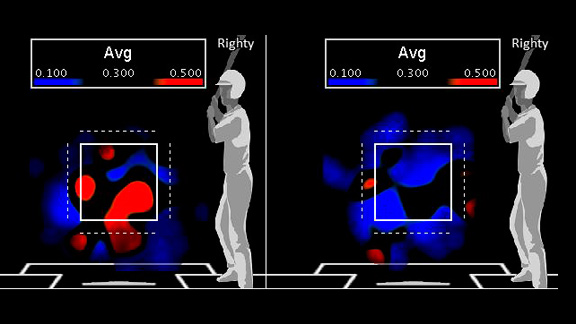 Left: Jayson Werth hot/cold zones vs LHP(2010)
Right: Werth's hot/cold zones vs LHP(2011)
Click here to create your own Werth heat mapsCan Werth rebound to being the hitter he once was? Discuss below!