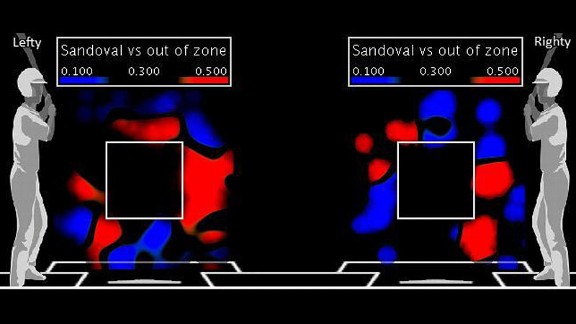 Pablo Sandoval's hot/cold zones from each side of the plate.
Click here to create your own Sandoval heat maps
Giants third baseman Pablo Sandoval is the heir apparent to Vladimir Guerrero and Ichiro Suzuki as the best bad-ball hitter in baseball. (Or maybe it's Salvador Perez.)
Pablo Sandoval
vs Out-of-Zone Pitches
Sandoval's bad-ball success was a huge key to his final 2011 numbers. He finished with a .328 batting average and 11 home runs in at-bats that ended with a pitch judged to be out of the strike zone by baseball's Pitch F/X system.
Sandoval's batting average ranked second-best in the majors and his homer total led the majors. It was a huge jump from his 2010 production, as noted in the chart on the right. Sandoval had the same number of hits against out-of-zone pitches in 2011 as he did in 2010. But he made 58 fewer outs.
At the top of this piece are heat maps, which show Sandoval's bad-ball success from both the left and right sides.
See that big red patch off the outside corner in the image on the left? That's a valuable area to Sandoval. It was worth 32 hits to him in 2011.
The one issue for Sandoval last season, one in which his defense improved significantly as well, was that he only played in 117 games. If he can maintain this kind of production for a full season, he could be an MVP candidate at year's end.
What's next for Sandoval in 2012? You tell us. Share your thoughts in the comments section.