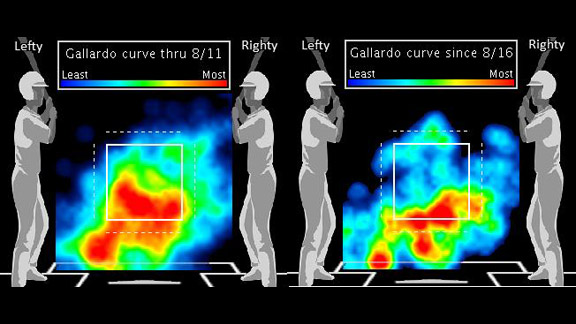 Pitch location for Yovani Gallardo's curveball, which was a key to his late-season success.
Click here to create your own Gallardo heat maps
At the end of the 2011 season, Brewers starter Yovani Gallardo found the magic touch with the pitch that could make him a viable Cy Young candidate in coming seasons.
Other than two blips against the Cardinals (one in the regular season, one in the National League Championship Series), Gallardo was magnificent to close the year. In his last 11 starts, including the postseason, he posted a 3.00 ERA, with 90 strikeouts and 19 walks in 72 innings.
In the five-start span encompassing his last three regular-season appearances and two starts against the Diamondbacks in the NL Division Series, Gallardo struck out 50 hitters in 34 1/3 innings.
Gallardo's success coincided with a change in the primary location of his curveball.
Yovani Gallardo's Curveball
2011 Regular Season
Gallardo was able to get his curveball to drop to a point just at or below the knees. Against both righties and lefties, he was able to spot the ball on or just off the outside corner as needed.
Check out the height of where the pitch landed in the heat maps atop this piece. Then, check out the results in the chart on the right.
Hitters couldn't touch the pitch. The rate of swings that missed against it doubled from 32 percent to 64 percent over his last eight regular-season starts.
One of the reasons the Cardinals were successful against Gallardo in the NLCS was that he didn't have his best curveball that day. They missed on only two of 12 swings and rapped three hits against it.
They were the fortunate ones. We'll see if others will be as fortunate in 2012.
How will Gallardo fare in 2012? You tell us. Share your thoughts in the comments section.