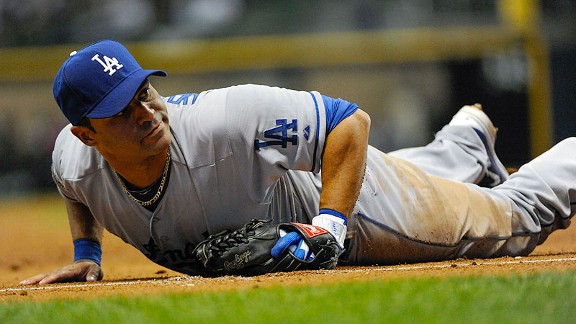 Benny Sieu/US Presswire
Jerry Hairston Jr. didn't mind getting a little dirt on his uniform to make good defensive plays in April.
Major League Baseball rewards its best offensive players and its top pitchers with Player of the Month Awards. But it does not salute a Defensive Player of the Month with the same level of reverence.
We're here to fill that void, with the help of the folks from Baseball Info Solutions (BIS). BIS has a team of video trackers who watch every play of every game, charting where balls are hit, which ones are turned into outs and which are not, and categorizing plays into approximately 30 groups of Good Fielding Plays and 50 groups of Defensive Misplays.
Defensive Runs Saved
Definition
BIS data is also used in the computation of a stat called Defensive Runs Saved, which measures value relative to others at the same position. How Runs Saved are calculated is explained in the chart on the right.
We came up with a list of nominees using this data and our Web Gem tracking (which allows us to measure "Great Fielding Plays"), then had a 10-person panel cast their votes. The panel came from our Stats & Information crew, writers Dave Schoenfield and Jayson Stark and ESPN baseball analyst Chris Singleton.
Our winner for April is an unlikely selection in that he's not the first person that comes to mind when you think of defensive standouts -- Los Angeles Dodgers utilityman Jerry Hairston Jr.
Most Web Gems in April
Hairston was able to make the good play and the great play. He finished April tied with Ryan Zimmerman for the major league lead with four Web Gems (including the No. 1 Gem on consecutive nights). He was credited with one Defensive Run Saved at second base, one at third base and two in left field.
Hairston finished April with a Good Play/Misplay tally of 11 to 1 in only 15 games in his first month with the Dodgers.
His highlight-reel play came on April 19 against the Milwaukee Brewers while playing third base, when he robbed Alex Gonzalez of the game-tying hit in the eighth inning with a diving stop and throw from his knees on a groundball down the line.
The next day, he missed on a similar diving attempt against Jose Altuve of the Astros, but then sprinted into foul territory and threw a strike to second base to nail Altuve's attempt at an extra-base hit.
Hairston got six of our 10 first-place votes, and even someone who voted him second-best was quite impressed. "No matter where you put him on the field, he posseses the ability to make a dynamic play," Singleton said. "His value as a utility player is as high as anyone on the defensive side."
Dodgers manager Don Mattingly agreed, saying, "Jerry's been great from the standpoint of wherever we put him, he's made some unbelievable plays."
Alex Gordon, Royals
Though Gordon didn't hit at the level he did in 2011, his advanced defensive stats were of Gold Glove caliber, and that earned him runner-up status for April.
Most Defensive Runs Saved: Outfielders
Gordon had seven Defensive Runs Saved in left field for April, and finished with a 9 to 1 tally in Good Plays/Misplays, including a home run robbery on Danny Valencia.
Gordon's rating was high partly because of the component that measures the deterrent value of one's throwing arm. There were 18 situations in which Gordon fielded a ball, and a baserunner had a chance to advance an extra base (score on a sacrifice fly, go first to third on a single, etc). He only had one assist, but it was a nifty one, nailing Albert Pujols at the plate. But Gordon only allowed the runner to advance three times, thus netting a deterrent rate worth two runs.
"You can never truly appreciate with the naked eye just how well Gordon takes routes to the ball on base hits," Singleton said. "It gets overlooked, but it's huge when you're an outfielder and can shut the running game down like a catcher does."
Freddy Galvis, Phillies
If there was an award for Defensive Rookie of the Month, Galvis would edge out Kirk Nieuwenhuis of the Mets for top honors. He finished with a Good Play Misplay tally of 14 to 3 and tallied three Defensive Runs Saved. He won No. 1 Web Gem honors twice, good enough to finish third in our voting.
Jamey Carroll, Twins
Carroll finished with two Defensive Runs Saved, but was impressive in the way in which he made plays. His 16 Good Fielding Plays were the most among shortstops. He made only two Misplays all month, and his 8 to 1 ratio was among the best for infielders.
Albert Pujols, Angels
Though Pujols struggled offensively, he didn't let his power outage impact his defense.
Defensive Player of the Month
Voting Results
Pujols tied with Adrian Gonzalez for the most Defensive Runs Saved among first basemen with three, and had a Good Play/Misplay ratio of 14 to 2. Pujols was rewarded both for his ability to handle difficult throws (for which he was credited with nine Good Fielding Plays), and his ability to turn batted balls into outs. One of the few bright spots for the Angels in April was that they allowed a .197 batting average on groundballs, fourth-best in the American League, behind the Indians, Athletics and Blue Jays.
Also considered: Ryan Zimmerman (Nationals 3B), Paul Goldschmidt (Diamondbacks 1B), Josh Hamilton (Rangers OF), Aaron Hill (Diamondbacks 2B), and Dustin Pedroia (Red Sox 2B).