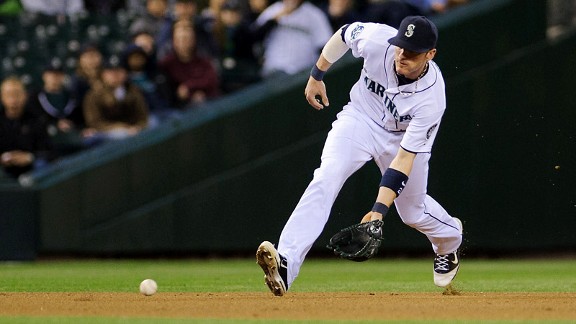 US Presswire/Steven Bisig
Brendan Ryan was baseball's standard-setter on the defensive side for the month of May.
Seattle Mariners shortstop Brendan Ryan had to think when we asked him if he had a favorite play in May.
"There weren't any between-the-legs, bare-hand, behind-the-neck crazy plays for me," Ryan said with a laugh.
That might be true, but the sum of Ryan's work this month was statistically impressive. He was the winner of our voting for Defensive Player of the Month for May. Dodgers utility man Jerry Hairston Jr. won the award for April.
Ryan had 13 Defensive Runs Saved for the month, second-most in the majors to Blue Jays third baseman Brett Lawrie.
He had 17 Good Fielding Plays and only four Defensive Misplays & Errors (see explanation in the accompanying chart). His 4-to-1 Good Play/Misplay ratio is far above average for a shortstop.
Lawrie benefited from turning outs in unusual spots on the field due to the Blue Jays' frequent extreme defensive shifts. Ryan's tally is almost entirely non-shift-based.
He was given 10 "Good Play" credits by Baseball Info Solutions' video-tracking team for recording an unlikely ground-ball out, five for his work starting or serving as relay man on a double play, one for an assist on an attempted baserunner advance, and one for a pop-up catch.
"His anticipation of plays, and his reactions, make the tough plays, really tough plays, almost seem simple," Mariners manager Eric Wedge said. "He slows the game down and can make reads that most players won't even come close to. And the thing that I think separates him is his uncanny ability to always know where he is on the field. He can field a ball in center field, turn on a dime, and know exactly where he is to make an accurate throw to first base. You can't teach that stuff."
So what did Ryan do right this month? As he noted, he's not making the super-flashy play, though he did net a pair of Web Gems.
In the past couple weeks, Ryan twice made the play for which he has become most identified, going deep into the shortstop-third base hole, almost into left field, to thwart Rangers second baseman Ian Kinsler.
"There are a lot of guys defensively who are underrated, and he's one of them," Kinsler said afterwards.
These are the plays that tend to add to a shortstop's Runs Saved because so few shortstops make them (the recently published book "Fielding Bible III" goes into this in great depth).
Ryan talked about his defense at length in a recent interview on FanGraphs. We asked him to elaborate further on the thought process that goes into this type of play.
"You rely a lot on feel and projecting where the ball is going to go, and trust that the ball will be hit that way," he said. "You don't want to move too early. It's like you want to get a cheater's head start in a sprint. You want your feet off the ground when the ball crosses the plate, so your feet are on the ground when the ball is hit, and you can explode to whichever side you need."
Ryan said knowing the hitter helps.
"Ian Kinsler likes to get the bat head out. His home runs are typically to left-center. His swing path is such that he's not going to get a ton of ground balls up the middle. With his swing, if he hits a ground ball, he's going to top a lot of them into the six-hole. So I'm going to shade him to the right. Though if it's a fastball from Jason Vargas, I might shade him up the middle. If it's a cutter in, it's probably going to be hit to my backhand side."
There is a mental aspect to defense that Ryan has put a lot of time into mastering. This dates back to his time in the St. Louis Cardinals organization a few years ago.
"I made an error in Double-A that ended a game," Ryan said. "I was (with) Springfield and we were in Wichita. Right before the play, I was thinking, 'If a ball is hit to me and I make an error here, we lose,' and then it happened. It was a horrible feeling, because I knew if I backhanded the ball, we'd be going extra innings."
"I said to myself after that play that I would never think that way again. You know you can play defense. Why would you think that way?"
It has been a while since Ryan thought that way. Wedge said that Ryan's abilities have progressed to being "beyond any defensive statistic."
That led to us asking Ryan how we could best evaluate defensive play. He came up with an idea that we found intriguing.
"The Olympics are coming up ... you know how they have the guy on the bobsled," Ryan said. "He sets the mark, and then when you see other people competing, you see the lead racer as like a ghost figure (compared to where the current racer is). It would be cool to be able to do that, and to see which players could get to the ball from where. It would be really cool to watch a game on TV and see that."