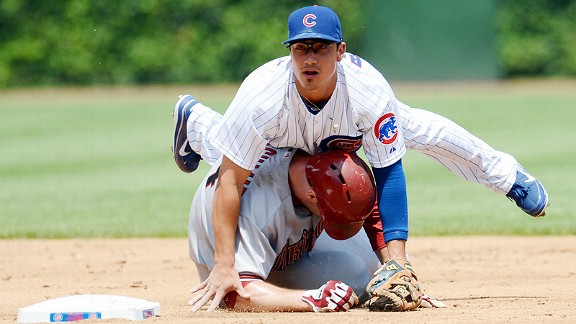 U.S. Presswire/Jerry Lai
Darwin Barney's defense has been one of the best things to come out of the Cubs 2012 season.
Who was the best defensive player of the month for July?
For the first time, our panel of voters didn't have a consensus choice. The margin was narrow, but Cubs second baseman Darwin Barney edged out Yankees first baseman Mark Teixeira and Athletics right fielder Josh Reddick.
Because the voting was so close, it seemed only fair to salute all three in this space. Let's take a closer look at their performances.
Darwin Barney, Cubs 2B
When Baseball Info Solutions made adjustments to its defensive metrics a few weeks ago, we thought that Barney would be among those to take a big hit.
But Barney's numbers turned out to be legit all along. The Cubs second baseman ended the month as the game's most valuable defender, with 27 Defensive Runs Saved for the season, eight coming in July.
Cubs manager Dale Sveum has prioritized defensive positioning, and that seems to have benefited Barney, who has a high rating on both balls hit to the right of where a second baseman makes most plays (10 plays better than average, and to the left (12 plays better than average).
The Cubs have given up a lot of hits this season, but it's not the fault of their middle infield. The average team allows a runner to reach on about 43 percent of balls hit over the second base bag, or a few degrees to the right or left. The Cubs have allowed only 39 percent.
Defensive Player of the Month
But Barney passes the eye test, too. He had 16 of what the BIS video-trackers call "Good Fielding Plays" in July, and only five Defensive Misplays & Errors. He excelled in turning the double play, with four of his Good Plays related to that skill, one shy of the best by a second baseman this month (Dan Uggla's five).
Barney's 3-to-1 Good Play/Misplay ratio has held up all season and is more than twice the ratio that Barney posted as a rookie in 2011, when his Good Play/Misplay & Error rate was 47 to 42.
Mark Teixeira, Yankees 1B
"Baseball Tonight" analyst Rick Sutcliffe has said just how much he values the defense of a player like Teixeira.
"A good defensive first baseman can make an entire infield" he's said on a number of occasions.
Most Good Fielding Plays
1B in July
Teixeira had the best defensive month of any first baseman, with 19 Good Fielding Plays and only three Defensive Misplays & Errors. That's right on par with his season ratio of 60 GFP/10 DM&E. He was one of two first basemen this month (Mark Reynolds being the other) with multiple Web Gems.
But where Teixeira really stood out was in his Defensive Runs Saved total. First basemen don't typically accumulate a lot of Runs Saved, but Teixeira nearly matched his total of eight from April to June by netting seven Runs Saved in July.
Why was his rating so high?
It probably had something to do with these three plays, the best examples of his athleticism and range.
Those types of plays show that Teixeira is able to get to more balls to his right than the typical first baseman, and he reaps the statistical rewards in his Runs Saved total as a result.
Josh Reddick, Athletics RF
Reddick's name came to our attention when Ichiro Suzuki was traded to the Yankees a couple of weeks ago. We weren't surprised to see Ichiro at the top of the Defensive Runs Saved leaderboard, but were a little surprised to see Reddick right alongside.
The transition from Boston's tricky triangle and right-field corner to Oakland's cavernous outfield has been a smooth one for Reddick, who had eight Defensive Runs Saved, and a Good Play/Misplay & Error rate of 9 to 5 for the month.
Most Defensive Runs Saved
RF in 2012
The skill set that earned Reddick recognition in July was one that nearly injured him -- his ability to go back and get balls. Twice during Oakland's sizzling July, Reddick made a wall-crashing, game-ending catch, the second one knocking him woozy (he was back for Oakland's next series).
He also made like Spiderman, hanging on to the right-field wall at the Rogers Centre to make a twisting grab that might have been among the fanciest-looking plays of the month. It earned him his third No. 1 Web Gem of the season (his second of the month), one shy of Alexei Ramirez for the major-league lead.
Reddick's range rating (known to the BIS folks as plus-minus) ended July the same as his season rating in Boston in 2011 (he's saved 15 bases more than the average defender).
But he's solidified himself as one of the game's best with his throwing arm. He's cut back on the rate of runners advancing on balls he's fielded from 63 percent in 2011 to 45 percent in 2012.
It's not that runners aren't trying to take bases on him. It's that Reddick is gunning them down.
He's thrown out nine attempting to advance, including three in the past month. He finished July with 11 assists for the season, one shy of Jeff Francoeur for the major league lead.