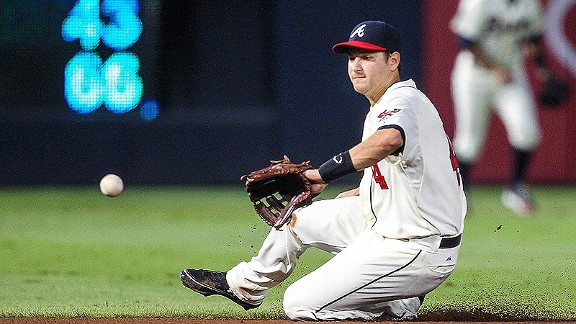 US Presswire/Daniel Shirey
One of the many ways Paul Janish frustrated opposing hitters in the month of August.
If you were watching the fifth inning of the Braves-Padres game last Wednesday night, you saw a baseball rarity—a Paul Janish mistake.
In this video replay, Janish and Chipper Jones collided on an infield popup and Janish was given a pair of Defensive Misplays by Baseball Info Solutions team of video reviewers—one for the collision and one for being slow to recover, allowing an extra base to be taken on the play.
Defensive Players of the Month
2012 Selections
We point this out, because it's the only thing that Janish did wrong on the defensive side in 28 games this month. In fact, in the other 388 innings that Janish has played this season he's been credited with NO OTHER Defensive Misplays (BIS has 50+ categories to choose from) and has just one error.
We got 11 votes for August's Defensive Player of the Month and eight of the 11 (who include ESPN.com's Jayson Stark and former major leaguer Doug Glanville) felt that Janish was the best of the best.
Janish beat Michael Bourn out in the voting, making him the second Braves shortstop to win the award. The other is Andrelton Simmons, whom the Braves replaced with Janish when Simmons broke his finger after 33 games, a week following his naming as June's top defender.
Bourn has gotten his fair share of attention for the fine season he's had. Janish may get overlooked because of his lack of offensive contributions.
We won't overlook him here.
Janish was credited with nine Good Fielding Plays (GFPs) by that same video-review crew that charged him with the misplays, including two that were No. 1 Web Gems on Baseball Tonight.
That 4.5-to-1 Good Play/Misplay ratio is excellent by any standards. The typical shortstop, when judged by video review, usually has about one Misplay/Error for every Good Fielding Play he makes.
Janish started off the month with an award-caliber play on Jose Reyes pop into shallow left field. He sprinted full speed and made a diving catch right near the line.
Scout's Take
on Braves SS Paul Janish
The diving stop, or sliding stop is Janish's trademark, like it was in the image atop this article, or here on Sunday Night Baseball, which resulted in the Braves getting the Giants lead runner out at third base in a key spot.
Janish's statistical strength throughout his career has been getting to balls hit up the middle. He's had plays in which he's had to do that, such as this one on August 3 to thwart a potential hit by Jordan Schafer of the Astros.
Janish and his mates on the left side of the Braves infield had a particularly good month. They combined to turn 77 percent of ground balls hit to the left of the second base bag into outs. The major-league average was 72 percent. In raw numbers, the Braves' left side was about 11 plays better than expected on those balls for the month.
The key to that was Janish, as evidenced by this: At month's end, Baseball Info Solutions credited him with eight Defensive Runs Saved, the most by any player at that position in August.