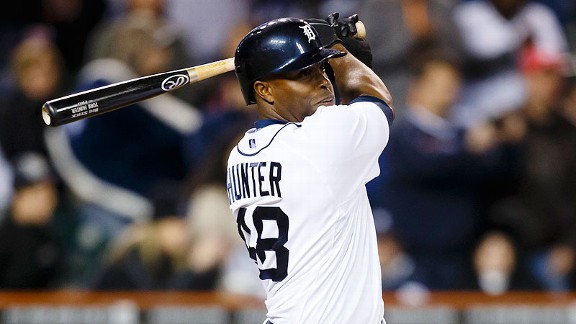 Rick Osentoski-USA TODAY Sports
Torii Hunter's hitting game plan is working very, very well.
Over the final 2 1/2 months of the 2012 season, Torii Hunter had the kind of breakthrough that a major league hitter of any caliber rarely goes through.
In his final 73 games with the Los Angeles Angels, Hunter had 100 hits, although only six home runs.
Hunter's batting average on balls in play was a staggering .443 –- 94 hits on the 212 opportunities in which the ball did not leave the park.
Torii Hunter
July 13, 2012 - May 4, 2013
Hunter has always been a productive hitter, one whose BABIP ranged from the .290s to the .330s, averaging out at about .310 over the 14 seasons in which he played 90 games or more.
The .443 second-half took a BABIP that was .324 at the break and turned it into .389 by season's end.
Since this was so out of character for Hunter, it figured that Hunter would return to a more normal level in 2013, perhaps even decline a bit since he turns 38 in July.
But the first 27 games of 2013 were a lot like those last 73 in 2012, with Hunter getting 42 base hits on the first 100 balls that stayed in the ballpark. Add that to last season, and it gave him a .436 BABIP over a 100-game span.
The idea of Hunter being as good as he was over those 100 games, and with two different franchises, was intriguing. Our analytics team pegged it as something with about 4,000-to-1 odds of happening. So we took a closer look at how a hitter could produce at that level for that long.
What did we find?
Borrowing from an idea from Ben Lindbergh of Baseball Prospectus, I watched every Hunter hit in that 100-game span and took some notes.
The first thought was that there had to be some luck involved. And in going through those 136 hits that stayed in the ballpark, I noticed some "cheapies" -- balls that fielders just missed, took a funny hop or barely landed in fair territory, plus a couple of questionable scoring decisions (including an egregious ruling of a base hit on a ball Jeff Francoeur muffed) -- but not what instinctively seemed to be an outrageous amount.
Every hitter gets some breaks. But every hitter loses some hits due to really good plays, too.
The folks at Baseball Info Solutions do video tracking of every batted ball based on where it is hit and how hard it is hit and compute an "expected BABIP" based on historical data. They quantified Hunter's expected hit total to be about 16 hits fewer than what he actually had.
Others looked at Hunter's numbers from last year and guestimated that Hunter should have had even fewer hits given his ground ball rate.
But even taking away 16 hits, Hunter's BABIP in these 100 games would still be nearly .380, which is still really good. So while luck could explain some of Hunter's success, it seems there is something more going on.
The biggest thing I noticed in watching video was that the Hunter from these 100 games was a hitter who was a slasher more than a basher. He was hitting line drives and hard ground balls more than he was drilling the ball in the air. He's not hitting the ball harder (I checked with the folks at Sportvision who have access to Hit F/X data) or hitting more line drives. But he is hitting the ball legit to all fields, with what seemed like a conscious, frequent aim at the first-base/second-base hole. MLB.com's Jason Beck noted this a week into Hunter's Tigers career.
Torii Hunter Hitting Pattern
vs "Down and Away"
Since Start of 2010
Next on the list was to check the heat maps and hit charts we have access to through our collection of data resources. The most stark improvements among the combinations checked were against pitches to one area -- knee-high pitches on or just off the outside corner. (We'll call them "low and away.")
The chart on the right shows Hunter's hitting pattern against those pitches. Simply put, Hunter went from trying to pull outside pitches to trying to hit them to the opposite field.
This was gradual. In the second half of 2012, Hunter began spraying the ball more to center field. With the Tigers, he's been very aggressive in hitting the ball to right field.
What resulted from that?
Hunter vs Down and Away
Take a look at this other important chart and note the difference in performance. Spreading the ball around has resulted in a lot more success. And opposite-field hits, a rarity for Hunter in the past, are now part of his repertoire.
There are other examples of this within Hunter's data sample, another being that he's shown an increase in taking the "right-down-the-middle" pitch to the opposite field, with a more modest improvement than versus down and away.
"He's Jeterian!" exclaimed one colleague when shown the data.
Hunter's not taking things quite to the extreme of Derek Jeter, but he's closer to that than he used to be.
Here's a theory and judge for yourself if it fits the player:
Hunter has a reputation of being an intelligent player and a total professional by those inside the game. Is it reasonable to think that at some point midway through last season (not necessarily at the break), he took notice of both his age and role and realized that the best way to stay ahead of the game and be of value (in lineups that featured Mike Trout and Albert Pujols, and now Miguel Cabrera and Prince Fielder) was to adapt the mentality of the type of batter who sacrifices power for smarter hitting.
For 100 games, the approach worked amazingly well. But in time, pitchers will adjust to the newer version of Hunter.
We'll be curious to see what he does to deal with that and what the next 100 games bring.