Of all the players on the Baltimore Orioles who are off to a slow start, Adam Jones is the biggest disappointment. Last year, the young center fielder made his first All-Star appearance. He was hitting the ball so hard he threatened to burst the seams. His combination of speed, power, and brilliant defense seemed to assure him of many more All-Star games. What a difference a year makes.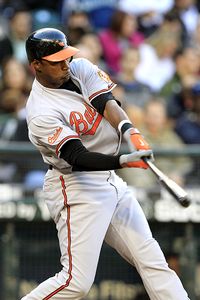 AP Photo/Elaine Thompson
Baltimore center fielder Adam Jones is struggling at the top of the lineup.Last year's second half slump reminded Orioles fans the road to stardom is never as smooth as one might wish, but it didn't prepare anyone for Jones' horrible start this year. Going into Wednesday's game, Jones' 2010 slash line was a paltry .230/.257/.353. At this time last year, Jones' OPS stood at 1.043. His 2010 OPS to date is .609. He is not the player who set the league on fire early last year. He may not be a player who belongs in the major leagues.
It is not hard to identify Jones' biggest problem. He has lost his already questionable eye for the strike zone. He is striking out more than last year (20.1 percent vs. 17.9 percent) and walking less (2.8 percent vs. 6.9 percent). He appears to have particular trouble with pitches down and away. He can't hit them when they are strikes and he can't lay off them when they are balls. The Orioles need to fix their scuffling all-star and they need to do it quickly.
The first thing the O's can do is to move AJ down in the batting order. O's skipper Dave Trembley put Jones at the top of the order hoping that being in a table-setting position would teach AJ to take a few pitches and get on base more. Nice idea, but it hasn't worked. Why not take some pressure off Jones and put him in the bottom third of the order? He is only 24 years old. There is plenty of time for him to develop into a top of the order hitter.
Next, Baltimore needs to find a better advisor for the young hitter. The Orioles are a notoriously free swinging team. They are currently last in the AL in walks and OBP. They are next to last in pitches seen per plate appearance, slightly ahead of Toronto. A quick glance through baseball-reference.com shows the O's haven't been in the top half of the AL in walks or OBP since 2004.
Philosophically, the Orioles need to catch up to the top teams in their division in this category. They need to stress seeing pitches and taking walks. In Jones' case, it is past time for long-tenured hitting coach Terry Crowley to teach the young man that skill. Crowley has deep roots in the Orioles organization but if he can't adapt his teaching methods to meet that challenge, it might be time for the team to find someone who can.
The last ditch measure for fixing Adam Jones' problems at the plate is to send him to the minors for further instruction. He still has options remaining so the move would be easy from a procedural standpoint.
Unfortunately the Orioles just demoted Nolan Reimold, another struggling young outfielder, and it would be tough on the already diminished fan base to see two thirds of their vaunted young outfield sent the minor leagues. Still, it is not like the team is in playoff contention this year. If it has to be done, why not get it done quickly and hope for a turnaround before 2011?
Jones picked up three hits against the Mariners Wednesday night, so he might fix his own problems. The Orioles can't afford to wait on him though.