A little more than a week ago with a man on second and two outs in the fifth inning of a 1-1 game, Atlanta Braves shortstop Andrelton Simmons hit a long drive near the 413-foot sign in right-center field of Chase Field that looked like it would put the Braves in front of the Arizona Diamondbacks.
But Diamondbacks center fielder A.J. Pollock raced back and made a reaching grab just before reaching the warning track.
Most Defensive Runs Saved
2013 Season
"There's a defensive run saved!" said Diamondbacks play-by-play announcer Steve Berthiaume.
The stat doesn't quite work that way, but the point was right on.
The Diamondbacks have had a lot of those plays this season. They entered Thursday with 40 defensive runs saved. The team with the next-most are the Texas Rangers with 19 -- fewer than half of the Diamondbacks' total.
The defensive runs saved stat relies heavily on a measure of how often a player turns a batted ball into an out. The Baseball Info Solutions video-trackers chart every batted ball from every game, labeling where the ball was hit and how fast it was traveling. They can thus assign every ball a value, of how often it was turned into an out.
If a fielder makes a play on a ball in which players at his position made an out 75 percent of the time, he receives a credit of 0.25 (1.00 minus 0.75, to account for being better than 25 percent of fielders ). If he fails to get the out, he is debited 0.75 points (losing value because 75 percent were able to make the play.
How does a team accumulate that many defensive runs saved in this short a period of time? And what are the Diamondbacks doing that other teams are not?
We worked with the folks at BIS to take a closer look, and found many reasons the Diamondbacks rate so well.
Here are two we deem particularly important and worth keeping an eye on moving forward.
The Diamondbacks outfield is off to a great start to 2013
The statistical separator between the Diamondbacks' defense and that of almost every other major league team is their outfield has excelled at a high level.
Diamondbacks outfielders have 27 defensive runs saved. The Brewers have the next most with 24.
No other team entered Thursday with more than 11.
Most Defensive Runs Saved
NL Outfielders (2013)
The Diamondbacks play an outfield that often has two players who can cover a lot of ground in Gerardo Parra and Pollock, who rank among the major league leaders in defensive runs saved.
The way that BIS charts batted balls, it can create a grid in which it determines an "expected out rate" for different sections on the field, based on how fast the ball was hit and where it was hit.
Parra and Pollock differentiate themselves from their peers by making catches in spots where balls are rarely caught. There have been 16 balls hit with Parra in right field in which the "Expected Out Rate" was between five percent and 50 percent. Parra converted eight of those into outs. His 50 percent conversion rate is the best among right fielders on those types of chances. Pollock's conversion rate of 10 outs on 23 balls of that type is second-best among center fielders.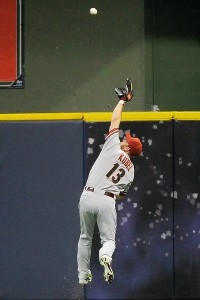 Benny Sieu/USA Today Sports
One among many great catches by Diamondbacks outfielders.
The catch he made on Simmons earned Pollock .76 plus-minus points, meaning he caught a ball in a spot in which only 24 percent of center fielders turned that ball into an out.
Those two aren't the only contributors.
Cody Ross, not known for his defensive prowess in recent seasons, has made a handful of impact catches in right field. He has five catches in areas in which the expected out rate ranged from five to 50 percent. His conversion rate is a very respectable 39 percent. He has six defensive runs saved.
Even Jason Kubel, not known for his defense by any means, has even had some of his teammates' success rub off on him. The catch in that image at right came from a game against the Brewers in the season's first week. He earned .93 points for it by BIS' system, the toughest catch that a Diamondbacks player has made all season by BIS' measure.
The value of a good first baseman goes a long way
BIS does video review on every play in every MLB game, tagging plays into 30 categories of good fielding plays (GFPs) and more than 60 categories of defensive misplays & errors (DM&E).
The first baseman who has excelled the most at maximizing GFPs and minimizing mistakes is Paul Goldschmidt.
In an article last week on ESPN Insider, BIS chronicled Goldschmidt's improvements on both sides of the field.

Let's go a little more in-depth.
BIS' video review has credited Goldschmidt with 43 good plays and only three defensive misplays & errors. The average major league first baseman will average about three good plays for every misplay and error, making Goldschmidt's rate by far the best of any regular.
Paul Goldschmidt
Good Fielding Plays Breakdown
What specifically is Goldschmidt doing?
1. He's handling throws that are either in the dirt or slightly off line with great skill. BIS has credited him with 23 GFPs for handling a difficult throw. That's seven more than the players (Eric Hosmer and Chris Davis) with the next-most.
Simply put: Goldschmidt is saving his infielders from potential errors with those plays.
2. Similar to the Diamondbacks outfielders, he's making plays in areas in which other first basemen don't.
There have been 19 balls hit with Goldschmidt in the field in which the expected out rate for a first baseman was between five and 50 percent. Goldschmidt converted nine of those 19 into outs.
No other first baseman has a conversion rate on those balls as high as Goldschmidt's 47 percent.
In going through video of some of Goldschmidt's best plays this season, his defensive positioning has played a key role. A player can net a higher total of defensive runs saved if he's in the right spot. Diamondbacks coaches Matt Williams and Turner Ward handle the pre-planned infield and outfield positioning with in-game help from bench coach Alan Trammell and manager Kirk Gibson.
There are multiple examples (like this one) of Goldschmidt playing way off the first-base bag for a right-handed hitter, allowing him to get to balls hit to the first base/second base hole. That's how someone like Goldschmidt leads first basemen with seven defensive runs saved.
Looking ahead
There are a lot of reasons to look at defensive stats very skeptically in the early part of the season. Previous studies have shown that a larger sample size is needed to make a full evaluation and that small samples can be affected by many factors.
But the difference between what the Diamondbacks have done relative to other teams makes their numbers relevant, particularly because the end result of this defensive success is what everyone is looking for when they watch a baseball team.
Winning.
Scott Spratt of Baseball Info Solutions contributed research to this article.