Andrelton Simmons won the Defensive Player of the Month award in our voting for May.
We've done the gushfest on Simmons' defense already a few times in this space, so we're going to keep the synopsis on his month brief and focus on a couple of the runners-up.
Player of the Month
May Balloting (Defense)
Simmons had five Defensive Runs Saved in May, tied for the most among shortstops with Stephen Drew, and ended May with 11 Defensive Runs Saved, second-most for any player at any position behind Diamondbacks outfielder Gerardo Parra's 12.
On the highlight reel for Simmons this month are a couple throws that Braves analyst Joe Simpson unofficially clocked at 97 mph. They're great plays, ones we've gotten used to at this point.
But let's give some props to two newcomers in our balloting, who finished second and third in our poll of 11 ESPN.com contributors.
Roger Bernadina, Nationals OF
Bernadina finished the month with eight Defensive Runs Saved, most among outfielders and one shy of Chase Headley's major-league leading total of nine.
What made Bernadina so good in May was his ability to stretch his range beyond that of a normal outfielder (and he plays all three positions).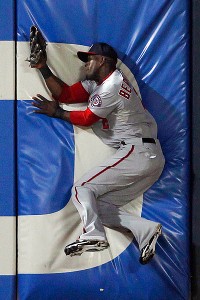 AP Photo/John Bazemore
This is how Roger Bernadina catches baseballs.
Bernadina excelled in making what Fangraphs.com charts as "Out of Zone" plays -- plays made in areas of the field in which outfielders are converting less than 50 percent of balls hit into outs.
Bernadina had 14 in only 153 1/3 innings in May, a rate of about one every 11 innings. The average major league outfielder makes one every 15 innings, so from that Bernadina netted about four more balls turned into outs than an average outfielder would.
Bernadina also garnered two Defensive Runs Saved from his throwing arm for plays like throwing out Russell Martin trying to stretch a single into a double, which helped preserve a one-run lead in the ninth inning.
Bernadina has done the game-saving thing before, which might be why the Nationals keep using him, despite paltry offensive numbers. He hasn't made any plays quite like last Aug. 7, the one that won a game against the Astros but we wouldn't be surprised if there are a few more like that in his future.
Nolan Arenado, Rockies 3B
Christina Kahrl wrote about Arenado's start to his major-league career two weeks ago and defense has been integral to that throughout the month.
He led the majors in Web Gems with four in May, and finished with five Defensive Runs Saved.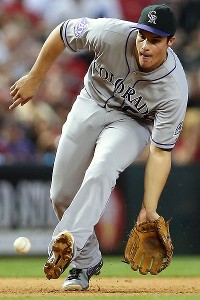 Getty Images/Christian Petersen
Nolan Arenado has been steady at the hot corner.
It's worth noting on Arenado's value that he was a replacement at a position at which the Rockies needed a better glove. Consider this stat:
Prior to Arenado's arrival on April 28, Rockies pitchers allowed opponents to reach base 51 times on 188 groundballs that were hit in a spot to the left of a straight line placed over the second-base bag. That's a 27 percent reached-base rate.
Since Arenado became the everyday third baseman, that rate dropped to 23 percent, saving the Rockies about nine hits in the process. Whether that value converts to long-term success, we'll see. But one person we talked to is optimistic.
"He's all-out on defense," said one longtime major-league scout. "His first-step quickness and instincts compensate for his lack of speed. He has an above-average arm, footwork and hands. He's improved from being below-average a couple years ago and I think he will settle in as an above-average defender as he learns the league. He reminds me of (former Twins third baseman) Gary Gaetti, possibly better."