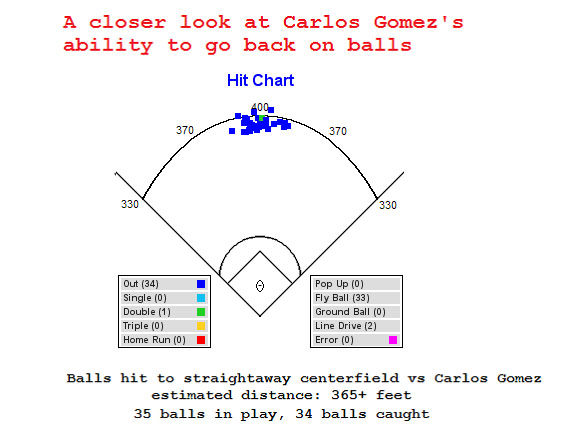 Did you get a chance to see the catch Brewers center fielder Carlos Gomez made to rob John Mayberry of a homer on Saturday?
This kind of play has become a Gomez specialty. He currently leads center fielders in both advanced fielding stats -- Defensive Runs Saved and Ultimate Zone Rating.
We have tools that allow us to dissect video-reviewed data of batted-ball locations. They aren't perfect, but they allow us to generate images such as this above, which looks at how Gomez fares against batted balls that stay in the park, have an estimated distance of about 365 feet or longer, and are hit to what we would call "dead center."
Gomez has been on the field for 35 balls that met our criteria. He's caught 34 of them (97 percent).
Highest Catch Rate by Team
Balls Meeting Our Criteria
The average major-league team converts 78 percent of those balls into outs.
The upper-end teams have catch rates of 90 percent or better on these balls, though those will likely dip a little bit as the sample size gets bigger (last year's leaders were the White Sox at 88 percent and the Angels at 86 percent).
The lower-end teams are catching those balls at a 70 percent rate or worse, with the bottom two being the Blue Jays (65 percent) and Phillies (57 percent).
The Phillies rated last in 2012 as well and brought in a new center fielder in Ben Revere. But that hasn't worked. The Phillies' version of the spray chart above is dotted with 15 hits. That's a far reach from Gomez's near-perfection through 62 games.
Speaking of reach, the only ball Gomez missed was this one, hit by Adrian Gonzalez ... and he came oh-so-close to snagging it.
For those who might argue that we were ultra-selective or not be precise in our readings, whether Gomez is exactly 34 of 35 in catching these balls isn't the point we're going for.
There are a couple of hits slightly to the left of the left-most out in that image. But there also more outs. Move our measurement area slightly to the right and there are a lot more outs. Same if we move it a little closer to home plate.
The point is this: Gomez is going back and getting balls, particularly those right over his head, like no one else.
Most Defensive Runs Saved
Outfielders in 2013
"He's fantastic," said Baseball Tonight analyst Doug Glanville, who pointed to Gomez being the rare outfielder who can net 400 putouts in a season, as he did in 2008. "You just don't get the full scope of what he can do until he's out there every day."
Gomez hasn't necessarily always been this way.
A major league scout we exchanged e-mails with described Gomez as "terrific and reckless in the same sentence. ... Every play has to be a Web Gem. But he is a guy who can make it look easy on any given day. He just has to stay within himself."
One of the things that has helped Gomez is how deep Brewers manager Ron Roenicke plays his outfielders, particularly Gomez and right fielder Norichika Aoki, who have combined for 28 Defensive Runs Saved.
Scott Spratt from Baseball Info Solutions did his own dive into the numbers and found that the Brewers have the lowest opponents' BABIP in the majors on balls hit to the deepest parts of the ballpark, regardless of whether they were hit to left, center or right (the Braves and Pirates rank 2-3).
Their rating system has a top-four on deep balls of Craig Gentry, Coco Crisp, Gomez and Brett Gardner. Gomez drops a hair because their look encompasses balls hit to left-center and right-center, not just straightaway.
The Brewers may not be winning regularly because of their outfield defense, but Gomez has performed at the highest level. He tops all major league position players in WAR, and can point to images like the one atop the story as one of many reasons why.