Last winter, Uni Watch broke the story about MLB's new batting practice caps. Now it's time for another scoop: Uni Watch is providing an exclusive first look at MLB's 2014 batting practice jerseys.
First, some quick background: MLB tends to come up with new BP cap and BP jersey designs for all 30 teams on three-year cycles. The cap and jersey cycles are staggered, so every team debuted a new BP cap design this season, but used the same BP jersey design from the previous two years. Similarly, teams will continue to use their 2013 BP cap designs for another two seasons, but it had been widely expected that we'd see new BP jersey designs for 2014. That expectation was recently strengthened when the 2013 BP jersey designs were offered at a hefty discount -- a fairly obvious sign that MLB was clearing out the old inventory in anticipation of the new.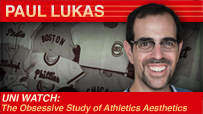 MLB usually doesn't unveil new BP jersey or cap designs until well after the World Series, and sometimes not until close to the start of spring training. But Uni Watch has obtained a digital copy of the spring 2014 catalog that MLB's uniform outfitter, Majestic Athletic, has sent to its authorized retailers. The catalog includes the new BP jersey designs. Interestingly, the catalog wasn't leaked to Uni Watch by an inside source. It was simply posted to a publicly accessible web page by an online sportswear retailer and has been available for anyone to download for weeks now -- if you know where to look.
A spokesperson for Majestic, when asked about the jersey designs, declined to comment and instead referred the question to MLB, where a spokesman confirmed that the designs are legitimate.
OK, enough preliminaries. What do the new BP jerseys look like? They're based on this design template (click to enlarge):
As you can see, it's a fairly basic template without too many bells and whistles. As had been expected, it matches the template used for the 2013 All-Star Game BP jerseys. (As a side note, the jersey appears to have a new version of the Majestic Athletic sleeve logo. This new logo appears throughout the catalog and will presumably be showing up on game jerseys next season as well.)
But while the basic template is straightforward enough, some teams have used it in unconventional ways. Here's a look at all the designs (click to enlarge):
Those images are fairly small, but they provide enough visual information for us to pick out several notable developments:
• In a move that's sure to raise eyebrows (or maybe ruin eyeballs), seven teams -- the Braves, Indians, Rockies, Royals, Marlins, Rays and Nationals -- are going with two-tone designs, with one color on the front of the jersey and a different color on the back. (Interestingly, the Rangers, who can never seem to decide whether their primary color is blue or red, are sticking with one color -- blue -- on the front and back.)
• Five teams, including a few who you might not expect, are going with separate home and road jerseys: the Red Sox, Reds, Twins, Yankees and Padres. In addition, the Brewers have a separate throwback design.
• The Indians' jersey features the team's block-"C" logo -- the latest example of the club distancing itself from its Chief Wahoo logo, which is apparently being eased into semi-retirement.
• The Pirates' design features black lettering on a black background, similar to the NBA's "Big Color" jerseys from last Christmas.
• Good to see that the Astros' design includes tequila sunrise side panels, just like their 2013 BP jersey.
• The Yankees, obviously, don't put names on the back of their BP jerseys. But it's interesting to see that nine of the other 29 teams are also going nameless. This is understandable during spring training, when rosters are huge and it can be a hassle to add lettering to dozens of players' jerseys. But it's surprising that so many teams would stick with the nameless format during the regular season, especially because the whole point of BP jerseys is to move merchandise. You'd think a BP jersey with a player's name would be a more saleable item, no?
Most of the rest is about what you'd expect -- nothing earthshaking, nothing scandalous. Still, it's an unexpected treat to get a sneak peek at next season's designs, right? Now we just need someone to upload next year's game uniforms.
Paul Lukas wonders how many other uniform catalogs are floating around out there, if only we knew where to look. If you liked this column, you'll probably like his Uni Watch Blog, plus you can follow him on Twitter and Facebook. Want to learn about his Uni Watch Membership Program, be added to his mailing list so you'll always know when a new column has been posted, or just ask him a question? Contact him here.