We've reached the point in the season where the first calls are coming into sports-talk radio. You know the kind. The ones that say "Bench (fill in the blank), he's terrible" or "(fill in the blank) is finally going to be a star."
But there are usually explanations for these small-sample spikes or sputters, the most common of which is "It's early!"
Nonetheless, some trends are starting to emerge. We'll see how long-lasting these are.
Jay Bruce
Bruce has been a victim of infield shifts this season.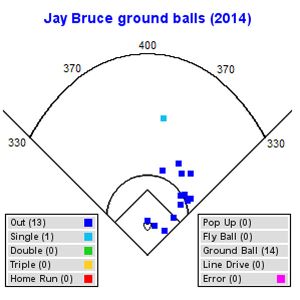 He's 0-for-9 when hitting a groundball against a defensive shift and you can see from his spray chart that he's already got a fair number of outfield ground outs.
Bruce is a good example of someone for whom shifts have contributed to frustration in a number of areas.
Over the last five seasons, his batting average on groundballs has sunk from .314 to .275 to .205 to .185 to its current 1-for-14. That's what happens when you pull 71 percent of your groundballs, as he has this season.
Prince Fielder
Fielder is also having trouble with shifts.
But his issue isn't with pulled balls, it's with getting the ball through the middle of the diamond.
Fielder is 3-for-18 when hitting a grounder or soft liner against shifts. He's 0-for-9 on the ground balls hit between where the second baseman and shortstop would typically play, as since they've shifted slightly, they're in ideal position to field his ground balls. Last season, on balls hit to those same locations he was 21-for-78 (.269).
Anthony Rizzo
Cubs first baseman Anthony Rizzo is off to a good start after a 2013 in which his numbers never reached anything near the expectation level the Cubs had for him.
Anthony Rizzo got a base hit on this pitch against the Pirates last week.Rizzo is hitting .319 in his first 47 at-bats and he can thank his duck snorts for that start.
Rizzo is 10-for-33 on balls classified as either softly-hit or medium-hit after batting .156 when hitting those same types of balls last season.
The classic example of that is this -- Rizzo reached out and got a base hit on a pitch that was thrown to the spot noted in the image on the right. Those hits make a big difference in the numbers this early in the season.
Jason Heyward
Last season, Victor Martinez of the Tigers got off to a slow start. But there was reason to believe that Martinez's performance would eventually catch up with how often he was hitting the ball hard (a lot) and it did.
This year, it looks like Jason Heyward is headed down the Martinez path.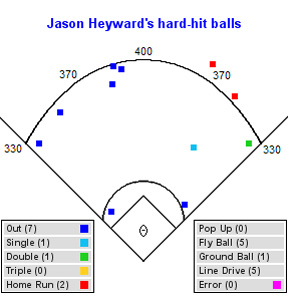 Heyward is hitting .160 and is 4-for-11 when hitting a ball that our video-tracking system classifies as hard hit. Over the previous two seasons, Heyward hit .746 and .718 on his hard-hit balls.
Heyward is 0-for-15 in 2014 when hitting a fly ball that doesn't go out of the ballpark. That includes a pair of well-muscled fly balls that found gloves against the New York Mets and Washington Nationals.
He's also 1-for-11 on his groundballs despite not being regularly shifted against and that might be a little misleading since he has reached base twice on errors (had those been scored hits, his batting average would have jumped 40 points).
Matt Wieters
At least for two weeks, Wieters has used the center of the field as his primary means for reaching base. From 2011 to 2013, Wieters pulled 43 percent of the balls he put in play and hit 28 percent of them to center field. This season, he's reversed those numbers, pulling 29 percent and centering 41 percent.
The result of that has been more line drives. Last year, Wieters totaled 15 line drives to center field as a left-handed hitter. In the first two weeks of the season, he's already got seven. The effort to pull the ball less often is a route that Torii Hunter went last season with modest success. We'll see if Wieters has made the adjustment or if it's just temporary results.