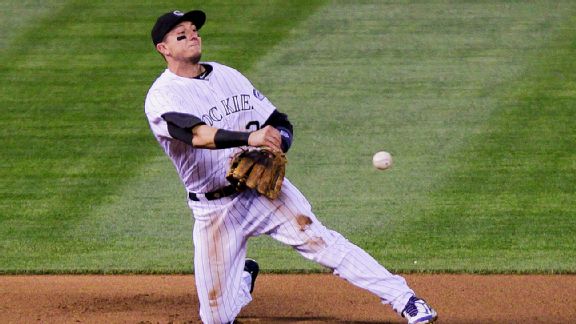 AP Photo/Barry Gutierrez
Troy Tulowitzki's month was filled with great play after great play.Colorado Rockies shortstop Troy Tulowitzki had a heck of a month, hitting .364 with seven home runs and a 1.205 OPS.
But you don't get to 3.0 Wins Above Replacement for a month without being a great defensive player, too.
Most Defensive Runs Saved
Shortstops in April
Tulowitzki was.
He won our balloting for Defensive Player of the Month for April, edging out the major league leader in Defensive Runs Saved, Braves outfielder Jason Heyward.
Balloting consisted of ESPN.com writers, members of ESPN Stats & Information and Baseball Info Solutions, and Baseball Tonight analyst Doug Glanville, each of whom ranked their top three defenders on a 5-3-1 point scale.
Tulowitzki was named first on seven of the 16 ballots and finished with 57 points, seven more than Heyward, who got six first-place votes. Tulowitzki's teammate Nolan Arenado placed third, capturing the remaining three first-place votes and 22 points.
Tulowitzki finished the month with 10 Defensive Runs Saved. No other shortstop had more than six. His three Web Gems were second-most of any shortstop (Alcides Escobar had five).
Perhaps most impressive about Tulowitzki was the video review work done by Baseball Info Solutions, which categorizes plays into about 30 categories of Good Fielding Plays and about 60 categories of Defensive Misplays & Errors.
Tulowitzki finished April with 16 Good Fielding Plays and only one Defensive Misplay & Error. That was a better ratio than even flawless Braves shortstop Andrelton Simmons, who had 12 Good Plays and one Misplay & Error.
Our favorite Tulowitzki stat is one we cited a few weeks ago (and also pays tribute to Arenado): Rockies opponents have reached on only 21 percent of ground balls hit to the left of the second-base bag. That rated best in the majors.
Heyward Had a Good Month Too
Notes on Braves OF
The Tulowitzki highlight reel for April was pretty impressive. You can get a look at a few of his best plays here and here.
The latter immensely impressed Rockies first-base coach Eric Young, who is back with the team after previously coaching for the Arizona Diamondbacks.
"Tulo's range is unbelievable, but more importantly, he has a knack for positioning himself very well," Young said Thursday. "As for him making the Derek Jeter acrobatic throw, Tulo is, by far, the only shortstop in the game to imitate [that] consistently. "Making throws on the run in any direction sets him apart from the rest. Watching him play defense is just as much a joy as watching him hit every day."