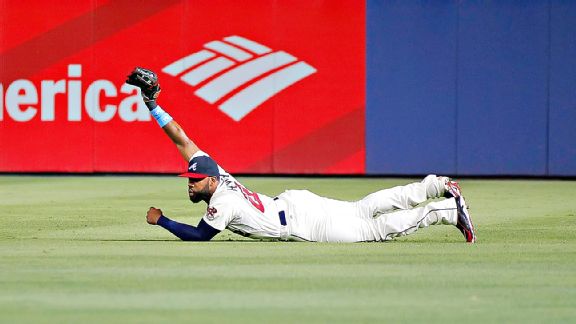 AP Photo/Todd Kirkland
Jason Heyward has provided many moments of frustration for opposing hitters.
Perhaps you saw it not long ago on "Sunday Night Baseball," one defensive whiz robbing another, with Jason Heyward coming in to make one impressive catch against Mike Trout and then racing back to make another such play.
Most Defensive Runs Saved - June
Heyward may not have quite the flash of Trout, but he's racked up great defensive numbers consistently all season.
He won our June voting for the Defensive Player of the Month, beating out Cincinnati Reds shortstop Zack Cozart, Boston Red Sox second baseman Dustin Pedroia and Kansas City Royals left fielder Alex Gordon, who finished second, third and fourth, respectively. He joined Troy Tulowitzki (April) and Yoenis Cespedes (May) as winners this season.
Heyward tied for the major league lead with eight Defensive Runs Saved in June. He was credited with six "Good Fielding Plays" (think Web-Gem nominees), all for terrific catches, and went the entire month without a Defensive Misplay or error.
Heyward ended June with 24 Defensive Runs Saved for the season. That has been compiled largely based on his ability to catch balls hit to the deepest part of right field (in fact, that makes up almost the entirety of those 24 Runs Saved).
Heyward caught 53 of 55 balls hit to spots at speeds for which the expected play rate was greater than 50 percent, according to data provided by Baseball Info Solutions (in other words, he made just about all the plays he should make).
He also made seven catches on balls with an expected out rate of 50 percent or less, one shy of the most by an outfielder for the month.
He closed out the month with a fantastic diving catch against Mets shortstop Ruben Tejada in a game the Braves rallied to win.
"Jason Heyward? He does everything," Mets manager Terry Collins said on Tuesday. "He can run. He's got great range in the outfield. Since I've watched him play, he's made plays that beat us. How about the diving catch he made last year -- the diving catch on Justin Turner against [Craig] Kimbrel? Tremendous play. Saved the game.
"Then he makes the play last night in foul territory down the line. I mean, he can throw, he can run. I've always liked the way he plays. He plays the game right. I wish he'd have a day off once in a while."
Heyward's own manager isn't planning to give him more than the occasional breather, and for good reason.
"Jason is a real game-changer in the outfield," said Braves manager Fredi Gonzalez. "With the things he can do to beat you, he can change a game just by his pure presence in the field. There are not too many outfielders in our league who have that type of impact on the game."